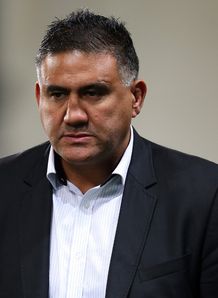 Related links
Teams
The Highlanders want to retain Jamie Joseph's services and feel Tony Brown is not ready for the head coaching role yet.
That is the word from Highlanders general manager Roger Clark, who said they were working on the coaching selection process, on a continual basis, with the New Zealand Rugby Union.
And although the Highlanders board have not discussed the topic specifically, Jospeh is Clark's personal choice to continue as the Dunedin-based franchise's head coach.
Joseph, who has coached the Highlanders since 2011, is in his final year of a two-year contract and Clark feels he is getting better as a coach.
''I believe we have made some pretty good progress this year. Sure we had a bit of a hiccup last year but when you look back to where we have come from since 2010 when Jamie arrived we have gone forward,'' Clark told the Otago Daily Times.
''I think we want to keep the big fella down here for a few years yet.
''In my view coaches only get better. The experience he has picked up over the past four years can only be good for him. I don't see anyone else out there putting up their hand and saying they want the job.''
Joseph, wh owas recently linked to the Cardiff Blues director of rugby position, has won 23 matches and lost 31 since joining the Highlanders in 2011.
Last season was a difficult one for him as the Highlanders finished in 14th position on the table despite having several high-profile players in his squad.
Although his critics wanted him to be replaced, the Highlanders board backed him and the team has already won three matches, after eight rounds, the same number wof victories hich they achieved in 2013.
Clark feels it's vital to remember why Joseph was initially appointed.
''We wanted someone who could understand what playing down here meant," he added.
What the place is about and knows how things operate in this part of the world. Jamie has played down here. He played all of his career down here and has a connection with this place.''
Otago's ITM Cup coach Tony Brown joined the Highlanders this season, as an assistant, and although many people feel that Brown's appointment is a sign that he will take over from Joseph, Clark poured cold water on that suggestion.
''Browny has already said, and he has been a really good addition to the coaching team, that it takes a while to go from coaching an ITM Cup team to a Super Rugby team. He is not quite ready yet.''