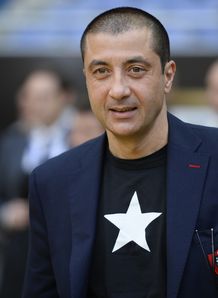 Toulon owner Mourad Boudjellal has written to French President François Hollande concerning the 16-week ban imposed on coach Bernard Laporte, he said on Friday.
Laporte has effectively been banned for the rest of the season for a bitter verbal attack on referee Laurent Cardona. The ban, which covers access to stadiums as well as referee's and players' dressing rooms, will end on June 3.
"I'm calling on the President of the Republic, the guarantor of institutions, to ask him if it is conceivable in a country like France to ban someone from speaking," said Boudjellal.
"He (Laporte) has been asked to keep absolute silence before, during and after games. This is a first, a penalty tailor-made for Bernard Laporte.
"It's an anti-democratic and exaggerated sanction."
Laporte had initially been banned for 13 weeks but the ban was extended on appeal last week. Toulon have now turned to the French National Olympic and Sports Committee with a further appeal.
Laporte described Cardona as "hopeless" and "incompetent" following Toulon's 22-21 loss to Grenoble in the Top 14 on January 4.
"He robs us every time. On the game's last move there was a strategic error, a referee error," Laporte, who also served as a sports minister in the French government, told RMC Sport radio in the wake of the match.
"It is not just this incident where he was hopeless. He was hopeless all the matches. He is always hopeless," he added.
European champions Toulon were also fined 10,000 Euros over the outburst. In 2012, Laporte was banned for 60 days for insulting referee Romain Poite.