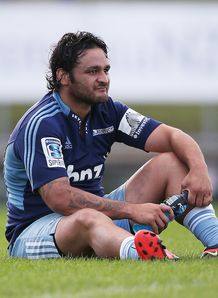 Related links
Teams
Also see
Blues and New Zealand scrum-half Piri Weepu will miss the next month of Super Rugby after scans revealed he had a minor stroke.
The 30-year-old recently underwent scans at Auckland City Hospital to get to the bottom of some migraine-like symptoms he had been feeling since the beginning of March.
The conclusion was that Weepu suffered a minor stroke, but unrelated to any rugby injury.
"Piri and his family have the full support of the organisation," said Blues head coach Sir John Kirwan.
"He's getting the best possible care and advice and we are grateful this has been picked up by our medical experts, as often minor strokes remain undetected."
According to Blues Doctor Stephen Kara, Weepu will now undergo more tests over the next four weeks.
"Piri will be out of rugby for a minimum of four weeks while we continue to investigate this condition," said Kara.
"Piri presented with transient symptoms that could have been from a migraine before he travelled and was cleared by specialists to travel, as long as he was monitored. He had no other symptoms to raise further concern while we were away.
"We took the precaution of getting an MRI scan for him this week and we are thankful we are now getting to the bottom of this issue.
"Having spoken to Auckland City Hospital specialists, we are very confident that Piri's condition is not associated with any injury, in particular, any head injury.
"This was a minor stroke and he is expected to make a full recovery. However any stroke is serious for anyone at any age and we must now take the time to fully understand the cause of it and the implications for Piri."
The news has understandably drawn the support of everyone in New Zealand Rugby behind Weepu, who has won 71 caps for the All Blacks.
"We know that Piri is pretty tough and has proven his ability to bounce back from any medical issue he has had," said New Zealand Rugby General Manager Neil Sorensen.
"He has access to the best possible care and support."