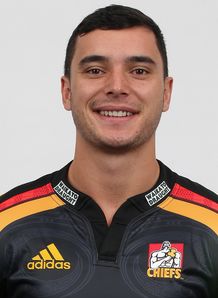 Related links
Teams
Young Chiefs sensation James Lowe could make his first start for the Super Rugby champions this Friday against the Stormers.
The 21-year-old has impressed in the ITM Cup for Tasman but has been forced to bide his time for a starting opportunity with the Chiefs due to the quality of the competition in the back three.
Mils Muliaina has returned from Japan while Asaeli Tikoirotuma and Tim Nanai-Williams have also featured so far, providing Lowe with a roadblock.
''It's been tough because the quality of outside backs [here] is up there with the best, so I've just got to make sure I bide my time and train just as hard as everyone else so I can put my hand up,'' Lowe told Fairfax News.
''I guess I've learnt a lot about myself - how hard I actually can push myself. They've got the recovery facilities here so that you can push yourself hard.
''I've dropped a fair bit of weight, my skinfolds have gone down and my rugby IQ has gone up so everything is going in the right direction.'
''This time last year I was about 108 so I was a fairly big boy trying to run around and in ITM I was about 103 so I think I've found my ideal playing weight.
''There's one way to get faster and that's to get skinnier. It was the hard way to do it but it paid off."
Lowe however is relishing his opportunity with the 2012 and 2013 champions, even if it means coming on when unexpected.
"It's definitely the best environment I've ever been in," added Lowe.
''I had my parents up and they were astounded by how many people came over and introduced themselves. It's something we're not really used to.
''I was on a bit earlier than expected against the Crusaders with Mils [Muliaina] going down and then another 20 minutes last week, so I've just got to keep putting my hand up and working hard throughout the week and hopefully more minutes will come.''
As for Friday's opponents, Lowe is braced for the Stormers' distinctive physical approach as the Cape Town franchise look to bounce back from last week's loss to the Crusaders.
''They're a lot more physical, combative sort of people, they maul, they drive a lot and it's going to be interesting," stated Lowe.
''I've never played against such a physical team but it's something you've got to learn and grow up with, don't you."