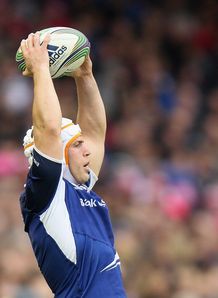 Related links
Teams
Ireland boss Joe Schmidt has spoken of his delight over the return to action of Leinster hooker Richardt Strauss.
Strauss, who has four caps for Ireland after making his debut in 2012, returned for Leinster against the Ospreys in the Heineken Cup.
The 27-year-old had been expected to miss the season after being diagnosed with a heart condition. His recovery and early return have therefore handed Schmidt, Leinster and Ireland a huge boost.
"He's resilient and he's a little bit of an opportunist," said Schmidt.
"We had a couple of other hookers in the squad earlier in the season.
"Mike Sherry unfortunately had a knee injury, then Damien Varley was named to come into the squad and he took a bit of a knock as well. So it just allowed the door to open for Richardt.
"I have to say, I coached Richardt for a number of years at Leinster, and know the quality of him and it's fantastic that he is back available.
"I'm delighted for him personally. He's a great man, and for him to bounce back and be available is a bit of a bonus for us."
Schmidt is set to embark on his first Six Nations campaign after taking over from Declan Kidney at the start of the season.
Discussing his emotions ahead of Sunday's opener against Scotland, Schmidt underlined the need to meet the growing expectations of his side following Ireland's narrow loss to New Zealand last year.
"I can't wait, and at the same time I wish it was miles away, you know," added Schmidt.
"I suppose there are a lot of opposite emotions. I can't wait to get started, it's exciting: these are events, not matches, with all the excitement around.
"The expectation is building, and that's great to have, along with sold-out grounds and vocal support.
"Hopefully we can meet that expectation, but that lends a bit of weight to it all, and I'm a bit nervous about that."