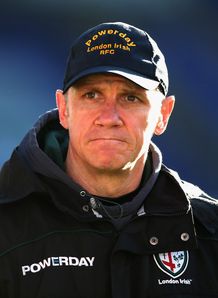 Related links
Teams
London Irish director of rugby Brian Smith believes the Premiership salary cap increase is more essential than a luxury.
The rise of £500,000 still leaves the Premiership clubs significantly trailing the Top 14.
Smith is currently in the midst of trying to secure leading players such as Marland Yarde and James O'Connor to long-term deals, admitting the extra half a million would only go so far, primarily to keep players at the club.
Smith stated that the extra money was more likely to be used on keeping players in the league than recruiting new ones.
"If you have 30 or 40 guys in a squad who all want a £5,000 or £10,000 rise, you might have to pay that for them to stay. That chews up most of that new resource pretty quickly," Smith told getReading.
"All teams are competitive and wage inflation creeps up because if people want to take your players they will offer them more.
"There is an upward spiral. I have never seen salaries go backwards in rugby because teams get more and more competitive.
"I don't think (the extra £500,000) is an increase. It is really accepting that for the last couple of seasons there has been an inflationary effect.
"You are also competing with France, who throw big money around.
"It is a very competitive industry. Players are your key resource and you are chasing good players.
"Their values go up and this reflects that.
"There is more money through the BT deal and it just makes sense.
"But I don't think clubs will be running out buying extra players with that extra £500,000. I think it will help them retain players."