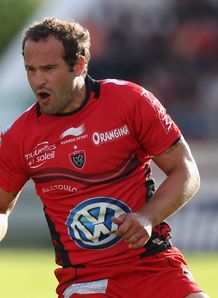 According to reports in the French media, Grenoble have tabled a two-year contract offer for French international playmaker Frédéric Michalak.
With his contract at Toulon expiring at the end of this season, the versatile back has been the target of a number of Top 14 clubs.
Grenoble have already failed once to recruit the 31-year-old as a fly-half for next season after having their offer declined because Michalak wants to be assured of playing in the Heineken Cup next season.
The club instead signed Racing-Metro fly-half Jonathan Wisniewski but have not abandoned the idea of bringing Michalak to the Isérois, this time hoping to offer the 68-test cap veteran of place in their squad as a scrum-half.
Michalak left the Sharks in South Africa to join Toulon with the ambition of playing for France in the 2015 World Cup. But having seen limited time in the RCT first team, he did not make the French Six Nations squad announced last week.