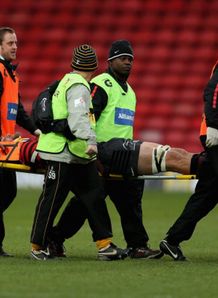 Related links
Teams
Also see
Professional players and coaches in England will take part in a compulsory concussion education programme before the start of next season.
Premiership, Championship and Regional Academy players and coaches will complete an online concussion education module, and further resources will be extended to professional game referees and, through the Immediate Care in Sport programme, to healthcare providers.
The education programme is designed to increase awareness and reinforce best practice, and will be aligned with the Zurich Consensus on Concussion in Sport and the International Rugby Board's Concussion Guidelines.
Its introduction has been approved by the Professional Game Board (PGB) which also supported a number of further recommendations made by its Medical Advisory Group following the Professional Rugby Concussion Forum held at Twickenham Stadium last November.
Those recommendations include:
• Mandatory review of match footage of the mechanismof injury by the assessing medical practitioner before a player can be cleared to return to the field following the Pitchside Concussion Assessment (PSCA)
• A new review process for individual PSCA cases
• A commitment to ensure best practice and objectivity in the Graduated Return to Play protocol which is specific to rugby union
• Support for long-term player health studies looking to establishthe prevalence of neurodegenerative disease among retired players
All the stakeholders in the English professional game will continue to engage with the IRB PSCA Working Group to ensure that the best possible decisions regarding any possible development of the PSCA process can be made as quickly and accurately as possible.
RFU Chief Medical Officer Simon Kemp said: "Concussion is acknowledged to be one of the most challenging sports injuries to diagnose, assess and rehabilitate but we continue to make significant progress in this area. The education initiative is designed to broaden understanding beyond healthcare practitioners and facilitate the further cultural change needed across the game for good concussion management. We are very aware that the way concussion is managed at the professional level drives how it's managed at other levels of the game and it is important we continue to lead the way."
RFU Professional Rugby Director Rob Andrew said: "The professional game in England is a global leader in terms of player welfare and these constructive steps build on the consensus reached at the Professional Rugby Concussion Forum and the work the RFU and its partners have been doing over the last decade in terms of injury monitoring, research and prevention."