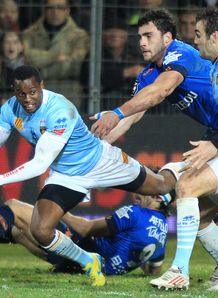 Perpignan, Stade Français and Oyonnax and Brive were all winners in the Saturday afternoon matches in Round 16 of the Top 14.
Results:
Perpignan 20-8 Bayonne
Biarritz 6-18 Stade Français
Oyonnax 6-0 Racing Métro
Brive 15-9 Montpellier
---
Perpignan v Bayonne
Stade Aimé Giral
France international wing Sofiane Guitoune was one of two try scorers for Perpignan in their home win against Bayonne.
Former Gloucester number eight Luke Narraway grabbed the other five-pointer for the Catalan side for USAP's seventh win of the season, which moves them clear of the relegation zone.
Bayonne surprised Toulouse at home last weekend but were unable to get the result this time around.
Bastien Fuster scored their only try at the Stade Aimé Giral, while Stephen Brett had opened the scoring with a penalty.
The loss sees Bayonne drop into the relegation zone following Oyonnax's win over Racing Métro.
The scorers:
For USAP:
Tries: Guitoune, Narraway
Cons: Hook 2
Pens: Hook 2
For Bayonne:
Try: Fuster
Pen: Brett
Perpignan: 15 Joffrey Michel, 14 Sofiane Guitone, 13 David Marty, 12 Watisoni Votu, 11 Wandile Mjekevu, 10 James Hook, 9 Nicolas Durand, 8 Dan Leo, 7 Al Strokosch, 6 Justin Purll, 5 Romain Taofifenua, 4 Luke Charteris, 3 Ion Paulica, 2 Guilhelm Guirado (coffee), 1 Alisona Taumalolo
Replacements: Romain Terrain, 17 Sebastien Taoififenua, 18 Sebastien Vahaamahina, 19 Luke Narraway, 20 Tom Ecochard, 21 Tommy Allan, 22 Lifeimi Masi, 23 Kisi Pulu
Bayonne: 15 Scott Spedding, 14 Bastien Fuster, 13 Joe Rokocoko, 12 Gabrielle Lovobalavu, 11 Marvin O'Connor, 10 Stephen Brett, 9 Mathieu Belie, 8 Charles Ollivon, 7 Mark Chisolm, 6 Jean Monribot, 5 Fa'aoso, 4 Dewald Senekal, 3 Neemia Tialata, 2 David Roumieu, 1 Artetz Iguniz
Replacements: 16 Anthony Etrillard, 17 Victor Manukula, 18 Abdellatif Boutaty, 19 Jean-Joseph Marmouyet, 20 Christophe Loustalot, 21 Santiago Fernandez, 22 Martin Bustos-Moyano, 23 Gert Muller
Referee: Patrick Pechambert
Assistant referees: Salem Attalah, Thierry Le Grand
Television match official: Bruno Bessot
---
Biarritz 6-18 Stade Français
Parc des Sports Aguiléra
Biarritz's nightmare season continued with their 13th loss of the season, this time at home to high-flying Stade Français.
Benoit Baby had kicked the hosts into a 6-0 lead before tries from South African lock Gerhard Mostert and Jerome Fillol swung momentum back in favour of Stade.
Julien Dupuy added two penalties and the sin-binning of Walsea Vuidravuwalu did little damage to Stade's prospects.
Biarritz suffered further when Damien Traille was forced to leave the field with a suspected broken arm.
The scorers:
For Biarritz:
Pens: Baby 2
For Stade Français:
Tries: Mostert, Fillol
Con: Plisson
Pens: Dupuy 2
Yellow Card: Vuidravuwalu
Biarritz: 15 Damien Traille, 14 Takudzwa Ngwenya, 13 Benoit Baby, 12 Seremala Nakala Burotu, 11 Aled Brew, 10 Dmitri Yachvili, 9 Yann Lesgourgues, 8 Imanol Harinordoquy, 7 Raphael Lakafia, 6 Benoit Guyot, 5 Addison Lockley, 4 Erik Lund, 3 Francisco Gomez Kodela, 2 Jean-Phillippe Genevois, 1 Thomas Synaeghel
Replacements: 16 Arnaud Heguy, 17 Fabien Barcella, 18 Joshua Furno, 19 Ueleni Fono, 20 Julien Peyrelongue, 21 Charles Gimenez, 22 Johan Pietersen, 23 Benedict Broster
Stade Français: 15 Hugo Bonneval, 14 Walsea Vuidravuwalu, 13 Geoffrey Doumayrou, 12 Jonathan Danty, 11 Digby Ioane, 10 Morné Steyn, 9 Julien Dupuy, 8 Sergio Parisse, 7 Scott Lavalla, 6 Antoine Burban, 5 Gerhard Mostert, 4 Alexandre Flanquart, 3 Rabah Slimani, 2 Laurent Sempere, 1 Sakarla Taulafo
Replacements: 16 Michael van Vuren, 17 David Attoub, 18 Pascal Pape, 19 David Lyons, 20 Jerome Fillol, 21 Jules Plisson, 22 Paul Williams, 23 Heinke van der Merwe
Referee: Pascal Gauzère
Assistant referees: Nicolas Datas, Stéphane Pomarède
Television match official: Bernard Dal Maso
---
Oyonnax 6-0 Racing Métro
Stade Charles-Mathon
Horrendous conditions at the Stade Charles-Mathon played a major role in proceedings as Oyonnax secured another crucial home win.
The loss of points machine Benjamin Urdapilleta until February was compensated for by fly-half Regis Lespinas, whose two penalties were the only points of the game.
Jonathan Sexton missed two kicks as Racing were undone by the conditions and a resolute defensive performance from their hosts.
Benjamin Lapeyre also missed an attempt for the visitors who have now lost seven matches this season.
The scorers:
For Oyonnax:
Pens: Lespinas 2
For Racing:
Oyonnax: 15 Lucas Amorosino, 14 Samu Wara, 13 Guillaume Bousses, 12 Roimate Hansell-Pune, 11 Silvere Tian, 10 Regis Lespinas, 9 Agustin Figuerola, 8 Valentin Ursache, 7 Nemia Soqeta, 6 Joe El Abd (coffee), 5 Damian Browne, 4 Thibault Lassalle, 3 Marc Clerc, 2 Jody Jenneker, 1 Antoine Tichit
Replacements: 16 Neil Clark, 17 Ruuan du Preez, 18 Damien Lagrange, 19 Scott Newlands, 20 Fabien Cibray, 21 Hemani Paea, 21 Dug Codjo, 23 Erwan Iaptef
Racing Métro: 15 Benjamin Lapeyre, 14 Adrien Planet, 13 Henry Chavancy, 12 Fabrice Estebanez, 11 Benjamin Fall, 10 Jonny Sexton, 9 Maxime Machenaud, 8 Masi Matadigo, 7 Bernard le Roux, 6 Antoine Battut, 5 Fabrice Metz, 4 Juandre Kruger, 3 Luc Ducalcon, 2 Dmitri Szarzewski, 1 Eddy Benarous
Replacements: 16 Virgile Lacombe, 17 Sioane Tonga'uiha, 18 Karim Ghezal, 19 Camille Gerondeau, 20 Dan Lydiate, 21 Mike Phillips, 22 Juan Martin Hernandez, 23 Brian Mujati
Referee: Jérôme Garcès
Assistant referees: Christophe Mallet, Laurent Breil
Television match official: Daniel Irazoqui
---
Brive 15-9 Montpellier
Stade Amédée-Domenech
Montpellier captain Francois Trinh-Duc snatched a late penalty for his team to leave Brive with a losing bonus point.
Played in foul conditions, it was a night for the kickers and Brive full-back Gaetan Germain once again was prominent.
Germain kicked five penalties to Benoît Paillaugue's two efforts, doing enough for the win.
Brive now move five points clear of the second relegation spot currently occupied by Bayonne.
The scorers:
For Brive:
Pens: Germain 5
Yellow Card: Buys
For Montpellier:
Pens: Paillaugue 2, Trinh-Duc
Yellow Card: Watremez
Brive: 15 Gaetan Germain, 14 Guillaume Namy, 13 Arnaud Mignardi, 12 Thomas Laranjeira, 11 Malakai Radikedike, 10 Riaan Swanepoel, 9 Jean-Baptiste Pejoine, 8 Sisaro Koyamaibole, 7 Dominiko Waqaniburotu, 6 Petrus Hauman, 5 Arnaud Mela (c), 4 Julien Le Devedec, 3 Patrick Barnard, 2 Guillaume Ribes, 1 Karlen Ashieshvili
Replacements: 16 Francois Da Ros, 17 Goderzi Shveldize, 18 Simon Pinet, 19 Hugues Briatte, 20 Thomas Sanchou, 21 Romain Sola, 22 Alifeleti Mafi, 23 Kevin Buys
Montpellier: 15 Pierre Berard, 14 Tomic Nagusa, 13 Rene Ranger, 12 Thomas Combezou, 11 Yoan Audrin, 10 Francois Trinh-Duc (c), 9 Benoît Paillaugue, 8 Alex Tulou, 7 Mamuka Gorgodze, 6 Kelian Galletier, 5 Thibault Privat, 4 Jim Hamilton, 3 Nicolas Mas, 2 Mickael Ivaldi, 1 Misha Nariashvili
Replacements: 16 Charles Geli, 17 Yvan Watremez, 18 Sitaleki Timani, 19 Johnnie Beattie, 20 Eric Escande, 21 Anthony Tuitavake, 22 Anthony Floch, 23 Maximiliano Bustos
Referee: Cédric Marchat
Assistant referees: Sébastien Clouté, Patrick Beuriot
Television match official: Eric Gonthier