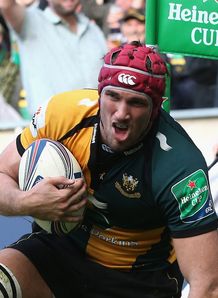 Related links
Teams
Two-try hero Christian Day warned Northampton Saints not to get carried away after their heavy 43-25 victory over Bath on Saturday.
Day bagged a brace as Saints rarely looked in trouble, but the second-row was not happy with the way his side handled the scrummage - an aspect of the game the visitors dominated.
The lock knows Saints must sharpen up ahead of the visit to Franklin's Gardens of much-vaunted Harlequins.
"The easiest thing to do when you're winning is think you're a hero and nothing changes," Day told the Northampton Chronicle and Echo.
"We'll be having a real hard look at ourselves, particularly the forwards at the scrum. We were disappointing there on Saturday and we need to learn some lessons quickly as a pack and get things right.
"On the whole on Saturday, we were pretty excellent everywhere else. We'll put the game to bed and look ahead to a smiliar sort of challenge against Quins on Friday."
But Day added he felt the eventual 18-point winning margin was a fair reflection on the game.
"The score was a reflection of how the game went," he added.
"They deserved a few tries and we deserved a few more.
"It's not really important at this stage of the season. The important thing is to perform well, play well and get wins.
"At the end of the season it's two one-off games and from Saracens away last year we know it's not necessarily who finishes top who wins."