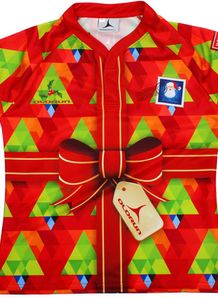 Shopping for friends and family can be a real drag so that's why Planet Rugby thought it a good idea to bring you a few gift ideas from the oval-ball game.
There are just 18 days until Christmas and with the weather outside pretty frightful in the northern hemisphere, we have been scouring the internet.
Your stocking could easily be filled many times over with some of the things on the market these days as we have books, clothes and postcards.
So without further ado, herewith our festive ideas.
Clothes
Yes you might not wear this out in public but in the comforts of your local club at Christmas time, how about this gift-wrapped jersey or the Bavaria equivalent from Lovell Rugby. For fans of The Hangover films, they also boast the Bangkok Bad Boys jersey, complete with Leslie Chow.
Toulouse are well stocked for winter with their range of clothing. If you love the French giants then you're in luck, with even bedding taken care of. We have picked out their dressing gown though which looks comfortable. If you're interested, it's going to cost you a hefty 75 euro.
Bath meanwhile are feeling generous at this festive time as they have 'Christmas all wrapped up' with their free scarf offer should you purchase a ticket for the Aviva Premiership Final. The offer applies to selected tickets for the Final on 31 May. Order by 17 December and they'll deliver the ticket and scarf bundle in time for Christmas. Tickets are available from: premiershiprugby.com/final. Read all about this offer on Bath's official website.
If, like us, you grew up on liking the Super Rugby shirts then there's always that option.
Accessories
Ever struggled to clean your boots to a brand new look after a wet, muddy match? We've all been there, ultimately running a load of water over them, which is not great for the boot. Well, we's found a Tygerpaw Thermo Plastic Pro Boot Brush. Quite a mouthful but it looks good.
ShadowBall - 'A New Spin on Rugby' has been designed to improve the level of ball handling skills in rugby players from the ages of seven upwards through the use and drills provided by University of Stellenbosch Centre for Human Performance Sciences. Having only been available in South Africa since the beginning of 2012, the ShadowBall has been making quite an impression in rugby circles. How does it work? Well, an exact replica of a size five International Rugby Board match specification diameter and weight rugby ball that can be thrown against a wall, to come back at you, hence accelerating the practice.
Get your A3 high quality Comic Rugby Calendar in association with Cancer Research UK & The Dallaglio Foundation. These quirky pictures are great fun. Want to SAVE 33% on a Fun Rugby Comic Calendar for 2014 from Captain Slogg supporting Cancer Research UK? Well, enter the Promo code: @Planet_Rugby
Books
As the game continues to grow in Fifteens and Sevens, we're all sure to welcome novice supporters with open arms. But how do you explain the rules of the game to the newbie?
Rugby For Dummies looks to address that problem as it's the guide to rugby in North America, endorsed by USA Rugby and Rugby Canada. It gives you a look at how rugby is played, offers strategies for winning, and covers every level of the sport, from high school to women's rugby to international leagues. Plus, this new edition addresses changes to the rules of rugby, includes new player bios, and looks at Sevens' return to the Olympic games.
A Game for Hooligans: The History of Rugby Union is a book written by Huw Richards and has received a plethora of positive reviews over the years. Covering great matches, teams, and players while also placing them in the context of the social, political, and economic changes which have affected the course of rugby's development. International in scope, this history includes not only the north but also the great rugby powers of the southern hemisphere and other rugby nations, such as Argentina, Fiji and Japan. "An ambitious project, triumphantly realised" was a glowing review from the Independent on Sunday.
DVDs
As you are all probably aware, the much-anticipated DVD of The British & Irish Lions 2013: Lions Raw was recently released, following on from the 1997, 2001, 2005 and 2009 efforts.
Getting up close and personal with the Lions has always been a draw for fans. But why are we not ranting and raving about the latest in the collection? Well, it was disappointing in respects as there was a distinct lack of excursions with two or three players - something that was great fun in 2001 - as it became an overkill of team meetings that became dull.
We have no doubt it will sell though, particularly as it was a first win since 1997. One hopes, however, that 2017's DVD goes back to the days of allowing players to show their true characters. Remember John Bentley in the gym and Keith Wood as the Irish sperm whale?
Something different
Rugby Relics has done a sterling job here as you can buy Christmas cards with a rugby theme from around the world. You won't be throwing these away in a hurry, that's for sure.
Many of the early touring sides from around the world found themselves abroad over the Christmas period so special cards were printed for the players and officials to send their season's wishes home to their loved ones. Here, Rugby Relics offer you a collection of those along with cards dedicated to personalities and unions. Definitely a gift to cherish.