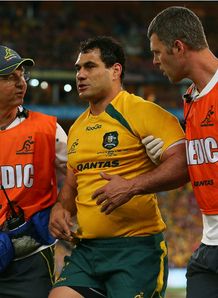 Related links
Teams
The IRFU's new medical services boss has warned a swift change in attitude when dealing with concussion is paramount to player welfare.
In September, Dr Rod McLaughlin joined the body, and has helped publish a new concussion guidebook to deal with amateur rugby in Ireland.
The IRFU's policy is that any concussed player younger than 20 must sit out 23 days before returning to play, with that time period cut to 21 days for adults.
McLaughlin emphasised that while separate protocols are in place in the professional game, no player should be encouraged to tough out and play through a concussion.
High profile incidents involving Brian O'Driscoll, and Wallaby flanker George Smith (who was controversially returned to play in the British and Irish Lions third Test after sustaining a huge head clash and being helped from the field) have sparked public ire in recent months.
"At the international and professional level, the doctors are there with the main expertise to make these decisions and that's what they should keep doing," said McLaughlin.
"We are educating across all the levels, that everyone within organisations, coaches, players, officials, understand that they should not be putting pressure in a way that they would suggest that someone should stay on the pitch when they shouldn't.
"It's about changing everyone's opinion and the culture that's out there, so that we don't have inappropriate pressure put on people to stay on the pitch."
Dr McLaughlin revealed rugby-specific research would continue to be undertaken, and rapidly, but admitted it would be years before any clear answers were gleaned.
"We've seen a link that we need to monitor: we haven't yet seen a cause and effect," added McLaughlin.
"I think it will be a number of years before we can tell that because the pro game is in its infancy.
"It's the appropriate management of present concussions that will be the effective thing in avoiding long-term damage if there is any.
"There's nothing's set in stone, it's an area that needs a lot more research.
"If someone gets two concussions within a season they should seek expert advice. And certainly if they receive three in a season, they probably should get expert, neurology advice."