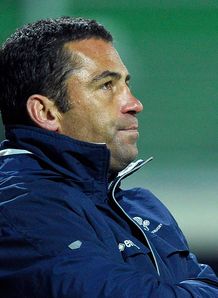 Related links
Teams
Franco Smith will step down from his post as head coach of Benetton Treviso after the next two rounds of the Heineken Cup.
Smith had planned to leave the Italian outfit at the end of the season, but has brought forward his departure by some six months.
The coach, who now leaves in less than a fortnight, reached a "mutual arrangement" with the club, who currently sit tenth in the Pro12 table.
Smith played for Treviso for three seasons from 2002-03, remaining with the side as head coach in 2007-08 - a position he has held since then.
As coach, he guided Treviso to a Scudetto title in 2008-09 and 09-10, as well as winning both an Italian and Italian Super Cup.
"I'm 41-years-old and I just felt I have contributed as much as I can," revealed Smith in a September interview.
"Not just for me, but also for Benetton it could be good for a bit of change. I'm in my seventh season here. I'm ready a new challenge.
"I can't say it's just the players that have grown but I feel I have grown a lot. I felt it was just time to draw a line in the sand."
Smith is set to be replaced by Marius Goosen, his assistant coach and team manager.