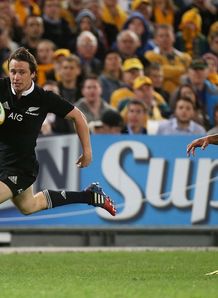 Related links
Teams
We asked five Planet Rugby scribes to name their 2013 Player of the Year...and got five different answers. Ross Hastie argues the case for Ben Smith.
While most pundits are naming All Blacks number eight Kieran Read as the outstanding favourite to claim the IRB's top honour in 2013, spare a thought for the best back in world rugby this year.
I believe that the nomination process for the Player of the Year award is flawed in that it only takes into consideration performances in Test matches. Since players spend most of the year in club/franchise colours it seems only logical that we should look beyond the dozen-odd Test matches each nation plays per year.
While no one can deny that Read and Leigh Halfpenny were brilliant, Ben Smith not only matched their efforts on the international stage, he was phenomenal in Super Rugby.
Despite playing in a team that was rooted to the bottom of the overall standings for much of the season, a look at the tournament statistics reveals Smith hovering at or near the top of the individual attacking charts.
The Highlanders wing/full-back beat a whopping 57 defenders in 2013 and made 19 clean line breaks. He made more metres with ball in hand than any other Super Rugby player - an incredible 1427.
Of course Test Rugby is a level up, but Smith proved a revelation in the black jersey, scoring 11 tries in 14 games. Along the way he set a new try-scoring record in the Rugby Championship, surpassing the mark previous set by Bryan Habana and Christian Cullen when he touched down in that epic clash against the springboks at Ellis Park. Eight tries in six games against the best teams in the world...what more could you ask for? (He also topped the stats for most clean line breaks and beat the second most defenders).
Showing his versatility, even after switching to centre for the end-of-year tour of Europe to fill the vacancy left by namesake Conrad, Smith was a class act, taking to the role like a duck to water.
Smith's international peers also reckon he has done a top job, as he has been named on the shortlist for the International Rugby Players Association's Player of the Year Award, which in my book tanks well above the IRB award.
Smith has also been shortlisted for the IRPA Newcomer of the Year Award after cementing his place in the All Blacks starting XV.
The 27-year-old was consistently awesome from February to November, he gets my vote.