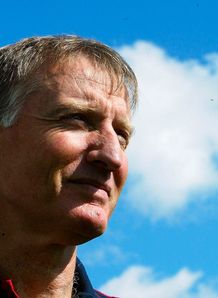 Related links
Teams
Edinburgh head coach Alan Solomons has played down their 41-17 defeat to Ulster, saying the duo are currently at different ends of the rugby spectrum.
Solomons knows his team are at the start of their journey while the Ravenhill outfit are further down the road as the visitors fell to a heavy PRO12 loss.
Cornell Du Preez opened the scoring with a fine example of power and pace, however Ulster replied with interest to go in 20-5 at the interval.
Ulster continued to be dominant in the second-half, with head coach Solomons explaining that he couldn't be too disheartened by the defeat.
"Ulster are a very strong side, they are one of the top sides in Europe, and we are a side that are building from the other end of the spectrum, so we knew it was going to be a massive challenge coming here," he told Edinburgh Rugby.
"We still have a long way to go. A lot of the time we are being punished because we're making errors.
"That's what Ulster did very well last night, every opportunity they got they took, and points resulted, but I'm not unhappy with the team.
"I think we are continuing to make progress and will continue to get stronger and stronger as the season goes by."
He continued: "We can't take anything away from Ulster, it was a well deserved win but I think, if you look at the game in context, we conceded three tries during our yellow card, while the tries themselves were poor - one was a charge down, one was an intercept.
"I think we made a little bit of a rod for our own back. The positive thing for us is that we came back and scored two tries when the score line was well against us."