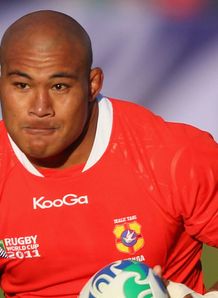 Related links
Teams
Tonga prop Sona Taumalolo was banned for four weeks on Tuesday and will miss Friday's Test against Wales in Cardiff.
Taumalolo was sent off for punching France lock Yoann Maestri, also shown a red card for hitting Taumalolo in the same incident, during last weekend's fiery 38-18 win for Les Bleus in Le Havre.
Both players appeared before an independent three-man disciplinary committee in London on Tuesday, but Maestri's red card was deemed a sufficient sanction in itself and no additional suspension.
The panel studied video evidence and heard representation from and on behalf of both players before reaching their conclusions, said a statement issued by Autumn International Disciplinary.
"Both players had accepted prior to the hearing that their actions had warranted a red card, and the committee deemed that Sona Taumalolo's offence was in the mid-range of the IRB's sanctions (five weeks), allowing one week off for mitigating factors," the statement said.
"Sona Taumalolo is free to resume playing on 16 December 2013, and both players have the right of appeal."