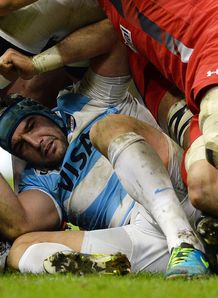 Related links
Teams
Argentina captain Juan Manuel Leguizamón admitted that Wales picked on the Pumas' weaknesses in the heavy 40-6 defeat.
A troubled year for Argentina has seen their former coach Santiago Phelan depart and a ten-game losing streak develop after losing a Test series to England, failing to win in The Rugby Championship and now losing to England and Wales in November.
Assessing Argentina's shortfalls in Cardiff, Leguizamón admitted that the number on the scoreboard was difficult to take after a promising opening period.
"Wales played an awesome match, they played very well. They found our weaknesses and they exploited them," said Leguizamón.
"At the beginning of the match we were strong in defence, we put pressure on Wales and made good moves but we couldn't complete them. When you do that, you will pay an expensive price.
"It's very frustrating losing by 40 points - it's very hard for us to take. We had a great week of training in Wales, we'd tried to play, we produced some good rugby, but it wasn't enough.
"Wales are a team playing with a lot of confidence and they are definitely playing better than last November. They played very physical rugby, but I don't think they were that much stronger than us.
"When they got points on the board, that makes things a lot harder in your head and they got a lot of confidence from that and we lost confidence.
"They have a great back row. The three of them that played today played very well together. They played with two sevens but they can do that well and we saw that today."
Argentina's final match of the year is against Italy next weekend.