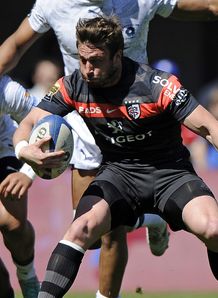 Toulouse travel to Stade Yves Du Manoir in Montpellier in the standout feature of Round Five of the Top 14 on Sunday.
Fourth plays fifth in a rematch of the 2011 final. Toulouse face a third heavyweight opponent in eights days having lost to Clermont last weekend before convincingly beating Racing Metro on Wednesday.
Montpellier have had a far easier time of it and will be looking for a third straight win after beating Brive at home and then Bordeaux-Begles on the road.
Montpellier has become a very difficult place to visit but Toulouse have a decent record there, with four wins and a draw in ten games.
Just days after his arrival, South African prop Schalk Ferreira will make his Toulouse debut in a side that features Hosea Gear on the left wing.
François Trinh-Duc, who was left our of the France training squad named on Thursday, will start at fly-half for Montpellier
Montpllier: 15 Anthony Floch, 14 Yoan Audrin, 13 Anthony Tuitavake, 12 Wynand Olivier, 11 Timoci Nagusa,10 Francois Trinh-Duc, 9 Jonathan Pelissie, 8 Alex Tulou, 7 Alexandre Bias, 6 Fulgence Ouedraogo, 5 Thibaut Privat, 4 Mickael de Marco, 3 Nicolas Mas, 2 Mickael Ivaldi, 1 Yvan Watremez
Replacements: 16 Charles Geli, 17 Leleimalefaga, 18 Robins Tchale Watchou, 19 John Beattie, 20 Benoit Paillaugue, 21 Thomas Combezou, 22 Benoit Sicart, 23 Maximiliano Bustos
Toulouse: 15 Yoann Huget, 14 Maxime Medard, 13 Yann David, 12 Florian Fritz, 11 Hosea Gear, 10 Luke McAlister, 9 Jean Marc Doussain, 8 Louis Picamoles, 7 Thierry Dusautoir, 6 Yannick Nyanga, 5 Joe Tekori, 4 Romain Millo Chlusky, 3 Census Johnston, 2 Christopher Tolofua, 1 Schalk Ferreira.
Replacements: 16 Martinus Jacobus van der Heever, 17 Cyril Baille, 18 Dorian Aldegheri, 19 Yoann Maestri, 20 Yacouba Camara, 21 Gillian Galan, 22 Sebastien Bezy, 23 Lionel Beauxis
Results last season: Montpellier won 10-8 at home; Toulouse won 27-9 at home
Prediction: Home won. Montpellier by five
Kick-off: 15.30 local (13.30 GMT)
Referee: Paul Gauzere