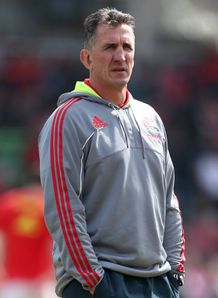 Related links
Teams
Munster head coach Rod Penney, who has taken on the scrum coaching duties at Thomond Park, has reacted positively to the new laws.
The switch from "Crouch, touch, set" to "crouch, bind, set" has so far been successful across the globe, with Munster set to operate under the new system for the first time with the beginning of the RaboDirect Pro12 next month.
Practice will come however when Munster take on Aviva Premiership side Gloucester in a pre-season friendly this weekend at Musgrave Park, with Penney expecting a positive effect after the early teething problems with the new system have been corrected.
"Initially I was really excited and that really hasn't changed. I think there'll be some great benefits for the game out of it," said Penney to The Irish Times.
"I think that's great for the spectators, which has got to be great for the game. But there is some teething problems around the appropriateness of the straight feed, how it looks pedantic if a referee is pulling him up when the ball is already at the number eight's feet.
"I'm the scrum coach, so we haven't got a designated scrum coach.
"It's a learning process for everybody so it's quite unusual. We are getting a lot of information from other capable people outside of myself and the group."