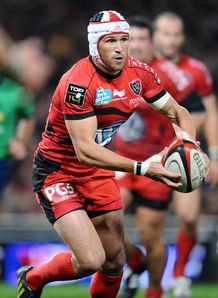 Related links
Teams
Also see
Matt Giteau has revealed he would be interested in returning to the Australian fold in time for the 2015 World Cup.
The 30-year-old has not turned out for the Wallabies since 2011 after a falling out with coach Robbie Deans when he was a surprise omission from Australia's World Cup squad.
Giteau packed his bags for France and has turned out for Top 14 outfit Toulon ever since - and with much success.
However, the lure of representing his country once more at a World Cup is great.
''I'd love to be involved and given an opportunity but I just don't know how realistic that is,'' he told Rugby Heaven.
''I'm enjoying my rugby here. You'd never knock back the chance to play for your country but I think being over here now and not being in Super Rugby, you have those doubts about whether you still are good enough to play top level rugby like that. There are a few questions to answer first."
While looking ahead to the next World Cup, Giteau admits that he had very bitter feelings about his omission from the 2011 party, but that with time those emotions have eased.
''Not getting the opportunity is OK, I've been fortunate enough to have so many coaches show a lot of faith in me and continue to pick me even if my form didn't warrant it,'' he said.
''I have no problems if a coach doesn't feel you're best suited for the group, but certainly the way I was told [about the World Cup omission] and the way things just ended left a bitter taste for me. That was my initial reaction but I feel and have nothing but fond memories of my time in Australia, and that I had the opportunity to play for Australia so many times, I'm very thankful for that.
''For me, now that some time has passed, it's been the best thing,'' he added.
''I would have loved to have been involved in the [2011] World Cup, I'm not saying that I wouldn't have been. I would have done anything to have been involved in the squad, helping out however I could. But it has been a nice change ... When you watch things like the [British and Irish] Lions Tests you would still love to be a part of the big games, but now that I've had a bit of success here I can let that go and wish the guys there all the best.''
It comes as little surprise that the former Brumbies man backs the decision to sack Deans and replace him with Reds boss Ewen McKenzie.
''Time will tell whether [McKenzie] was the right appointment but certainly change needed to be made, and I think at this point in time Ewen was probably the best man for the job. Robbie had had his opportunities at trying to build success and get the team going in a certain direction, so I feel it was time for a change," he said.
Whether the temptation for Giteau to add to his 92 Test caps develops past the 'never say never' stage remains to be seen though, with Sydney native quite happy with Toulon.
''I have at least this season to go [on my contract] and I might possibly reassess after that but like I said at the moment, they're all big ifs," he admitted.
"I've got a two-year deal here, I'm enjoying my time here, my family's happy, I'm happy and I get the opportunity to play with so many great players, so I'm quite fortunate in that regard.''