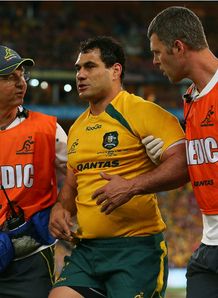 Related links
Teams
Also see
Former Scotland international Rory Lamont has slammed the International Rugby Board's concussion tests and says that players can cheat in order to pass them.
There has been plenty of furore surrounding the Pitchside Suspected Concussion Assessment (PSCA) after George Smith was allowed back onto the field during the third Test between Australia and the Lions despite having clearly been knocked out. Smith, who was helped to the sideline, later admitted that the knock "obviously affected me. You saw me snake dancing off the field."
The IRB have since announced that they will be reviewing the PSCA system and urged players and medical staff to act wisely, with the protocols a guideline.
However, Lamont has not been placated by this, with the 29-cap international voicing his displeasure.
"I don't know what research the IRB used for this trial but it is seriously flawed," Lamont told the Scotsman. "Everyone saw George wobbling his way off the field, clearly concussed, and then come back on.
"I have suffered clean knockouts, real sleeping-on-the-floor episodes in a game, so I know the protocols inside out, the symptoms and recovery periods, and there is no way a player should be allowed to stay on the pitch after a head knock. It's insanity. People might get annoyed with me saying this, but we are seeing reckless disregard for players' welfare right now."
Mandatory three-week lay-offs were at one time implemented due to concern for player safety, but many coaches were critical of what they deemed to be excessive rest for minor head knocks.
As a result, tests are now in place to monitor players immediately after they suffer a head knock and in the days that follow. While this system may seem a wiser one, Lamont reveals that players have found ways of getting around it.
"In many cases that is because they cheat," Lamont added. "Players all talk about it. A test is done at the start of the season as a baseline test, and players who suffer from concussion have to return to that level to be passed fit to play.
"But some players will deliberately do stuff in the baseline test so that their results are low, making it easier to pass after concussion. And I've seen players carrying concussion into games. They'd come off a fairly straightforward tackle, but be sitting on the ground, starting into space for a few seconds.
"It's a bit like your body shutting down and re-booting. I've experienced that. I didn't hide it, but you are often ostracised by coaches who assume you are being dishonest or shirking by saying you can't train or play, so with that pressure boys do play when they have head trauma.
"I'd like a return to a minimum three weeks out after concussion, because that would take away the pressure from coaches and medics to try to get a player back too early."
With Lamont's statements sure to draw criticism from some quarters, he took to Twitter to explain his decision to go public.
"I did the concussion article because I think it is a serious problem in rugby. The current IRB concussion protocol is simply dangerous," he wrote.
"Rugby culture is all about bravado and mental toughness. Complaining about injury and pain is often seen as weakness of the mind.
"Players think a bruised brain is the same as a bruised leg, in which it is something that you can train and play through. #Theyneededucation"