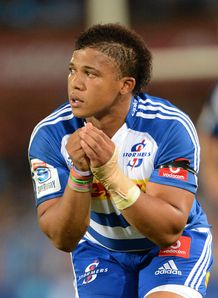 The Lions welcome back three key players from loan spells for their promotion-relegation clash with the Kings but have also been dealt two injury blows.
Lock Franco van der Merwe (Sharks), hooker Martin Bezuidenhout and fly-half Elton Jantjies (both Stormers) have all returned to the union after loan spells and are ready to take their places against the Kings on Friday.
However, Jaco Taute (knee) and Lionel Mapoe (shoulder), who turned out for the Stormers and Bulls respectively, saw their seasons end early due to injury. In addition, the Lions' agreement with the Bulls regarding Callie Visagie dictates that the hooker remains with the Pretoria outfit until the conclusion of their season.
Despite this, Golden Lions Rugby Union president Kevin de Klerk is upbeat about the Lions' chances.
"We have consolidated the team in the Vodacom Cup, we had the Lions challenge, we made a big statement in putting up 74 points against Samoa. The team has good momentum going into the playoffs," De Klerk told BallzRadio.
"The guys are really fired up and looking forward to it."
The Lions travel to Port Elizabeth on Friday for the first of the two play-off matches.
Promotion-relegation fixtures:
Friday, July 26: Kings v Lions, Nelson Mandela Stadium - 19:10
Saturday, August 3: Lions v Kings, Ellis Park - TBC