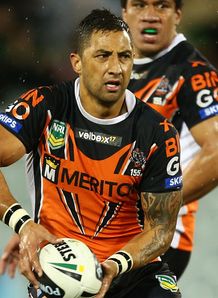 Reds boss Ewen McKenzie is not convinced that rugby league star Benji Marshall will be able to adapt sufficiently should he switch to union.
Marshall has been touted as the next big thing in rugby union as he prepares to switch codes, with many expecting that he will make a similar impact to fellow converts Sonny Bill Williams and Israel Folau.
However, McKenzie believes that the 28-year-old may be making the change too late in his career to become a standout playmaker.
"I don't doubt the competitiveness; I don't doubt the athleticism; I don't doubt the skill. It's more about where the instincts are," McKenzie told AAP.
"That determines how successful you are going to be.
"The older you are, the more entrenched you are with the instincts of whatever you've been doing and the harder it is to suddenly go and develop new instincts."
The likes of Williams, Folau and Cooper are said to have the 'X Factor' that sets them apart from the rest. McKenzie feels that this added extra is their ability to act instinctively - and that's something Marshall may struggle to do in union.
"These players do well because they don't think about things - they just do it," he said. "It's like changing gears in your car.
"The space in rugby and the space in rugby league is different.
"The good players can learn but it's just a question of how long they take; how long the investment is before you get the return.
"My experience is that the older the guy is, the harder it is to make the transition."