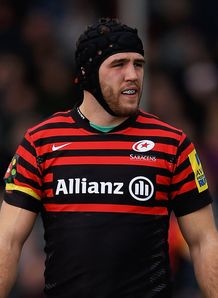 Related links
Teams
Will Fraser has two goals next season - ensure Saracens don't end the season empty-handed and earn a call up to the England squad.
Flanker Fraser impressed for Sarries last term but his and the London club's season unravelled in dramatic fashion in May as a shoulder injury forced him out of the Heineken Cup semi-final meeting with Toulon, and the Aviva Premiership play-off clash with Northampton Saints.
Saracens lost both matches meaning Fraser's season came to an abrupt end, and with the injury worse than first feared the 23-year-old was forced to miss out on England's tour to South America over the summer.
Fraser is yet to recover fully and will miss the first few matches of the season, including Saracens' opening fixture of the season against London Irish as part of the London Double Header at Twickenham.
And while he might not be fighting fit, Fraser is fully focused on his aims for the new season as he bids to ensure it is one never to forget.
"I suppose it was a bit of an anti-climax really, you would have liked to at least make the final in either Europe or the Premiership - the plan was for both obviously and it will be again this year," said Fraser.
"From a personal point of view the timing of the injury wasn't great. I picked it up the week before the Toulon game, and I was desperate to play but you can't do anything about it - you have to take the rough with the smooth.
"I had a good season last year I have a lot of positives I can take from last year and a lot of stuff I can work with as well.
"The injury obviously meant I couldn't go with England and anybody wants to represent their country. I've had good feedback and at the end of the day it's all on me when I get back fit and back playing.
"It's nice in a way it's all on my own shoulders, I have massive aspirations to play for England again and I'll do anything I can to fulfil them.
"I won't ever know if I would have gone to South America at some stage, because obviously I got injured beforehand, but I got a text from Graham Rowntree saying to stay in touch get back fit and see what happens."