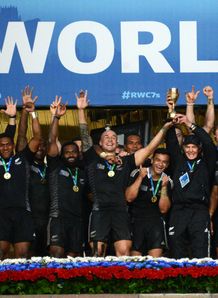 Russia is used to revolutions. It had two of its own last century. So it was almost poetic when the Rugby World Cup Sevens hit Moscow recently as change sweeps its way through the abbreviated form of the sport.
Sevens has come a long way since its days as an activity to keep fifteens' players from gaining weight over the summer holidays. The game that was previously little more than an afterthought has prospered and grown into a serious force within the world of rugby.
The IRB Sevens World Series winds its way annually through big rugby nations such as New Zealand and South Africa and takes in sevens hotspots like Hong Kong and Dubai. And the series is complimented every four years with a World Cup - won this year by New Zealand.
But despite sevens' rapid growth and its prestigious inclusion into the 2016 Olympic Games in Rio, it is still open to debate whether the game has enough pulling power to capture the imagination of the general public.
Have most people heard of Dan Norton? How about Sir Gordon Tietjens or Waisale Serevi? All three are big stars in sevens, but are they household names?
Norton should be. England's main pace man finished as the season's top try scorer, with 52 to his name - 14 more than his nearest rival. And Tietjens also has a good case. He is New Zealand's legendary sevens coach, credited by many with masterminding his country's dominant position in the game. Then there is the iconic Fijian Serevi, possibly the greatest ever sevens player. The Maradona of the game.
But the fact remains that sevens players struggle to build public profiles on a par with their counterparts in fifteens. One man that could change all that is Sonny Bill Williams. The code-hopping New Zealander has starred in both Rugby Union fifteens and Rugby League while also carving out a professional boxing career.
And he has now been linked with a move to New Zealand's all-conquering sevens side in time for Brazil - a move that could boost the audience for sevens enormously.
But although coach Tietjens is open to the idea of players like Williams making the switch, he insists that they must clear certain hurdles beforehand.
"First and foremost, they've got to make the transition to rugby and be involved at a Super Rugby level, perhaps eventually in New Zealand," said Tietjens, speaking in Moscow after the All Blacks victory at the Sevens World Cup. He added that they would also have to be involved in the World Series.
The idea that players of Williams' pulling power would not be handed a shortcut to the Olympics seems to symbolize the growing self-confidence of sevens. But although a specific set of skills is now needed to play the game, sevens is sometimes still a stepping stone to fifteens. Tietjens explained that 39 players had come through his system and gone on to be fully-fledged All Blacks.
"I hate to lose them, but at the same time, I still want them to become an All Black...that's my role, to still put guys in All Blacks teams. We want to be the best in world rugby and the All Blacks is the pinnacle."
But what about players that can't play for the All Blacks? For them, Tietjens' squad provides another option. It is understood that by the end of 2013, New Zealand plan to have 6-8 centrally-contracted sevens players and up to 20 by the time Rio comes around.
"Because it's now become a full-time occupation for some players, you'll have youngsters out there that will just aspire to be an All Blacks sevens player," added Tietjens.
Waisale Serevi provides a template for anyone hoping to build a career in sevens. The majestic Fijian enjoyed a glittering career in the game, arguably one of the only players to transcend the sport.
"I think after Moscow, as we all know, rugby sevens will get bigger and bigger towards the Olympics," he said, speaking from his base in Washington State.
"The level of rugby shown on those...days was amazing...there were no easy games."
His company, Serevi Rugby, organises training camps and sells merchandise to a growing rugby audience in the USA - a country pushing hard to climb the sevens rankings. The world's largest economy showed how seriously it now take sevens by running New Zealand close in a pool game that the Kiwis edged 26-19.
Serevi highlighted the excitement of sevens and how easy it is to understand for the uninitiated. And he backs up the view that it is becoming harder to move from fifteens to sevens, which could force players to commit to one or the other.
"The competition is getting higher and demands a lot from the players...I think the way sevens is going, they will have to decide which one they want to play."
And as Rio approaches, more professionals may well decide that they want to play sevens over fifteens, giving themselves an opportunity to make it to the Olympics and enjoy the spoils beyond.
"Regardless of what you play, I think it's the top of every sport," concluded England's Dan Norton.
"Everyone wants to be an Olympian and have the opportunity to go."
And it's the lure of that gold medal and the prestige that comes with it that may finally complete the revolution and bring sevens out of the shadow of its more established big brother.
By Rob Hartley