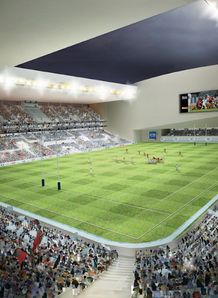 Racing Métro are set to build a new ground after Jacky Lorenzetti secured funding for the project, according to reports in France.
Le Figaro have stated that "The Arena 92" will ideally be finished by the end of 2016 and has been a long-term project of Lorenzetti's for some time.
Seating 41,000 and with a roof, the Arena 92 will replace the historical but small stadium in Colombes, with the Arena seen as an "essential" tool for the development of the club according to Lorenzetti.
The new ground will be situated in the district of la Defense, right next to Paris, and will stage concerts as well as matches, despite opposition to the project from local authorities.
After many months of hard negotiations, mostly regarding the roof, shops and the offices, Lorenzetti now has his stadium but after a two-year wait, with the stadium initially being planned for 2014. The cost of the project has also now escalated towards an estimated cost of 350 millions Euros.