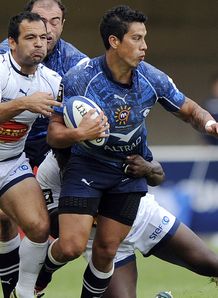 Montpellier centre Shontayne Hape has been ruled out for the rest of the season after suffering a series of concussions.
The Kiwi-born former England international has not played since Montpellier's win over Agen in the Top 14 on January 25 and has been advised to take a total break from training for three months before thinking of playing again next season.
The news means he will miss Montpellier's Heineken Cup quarter-final against Clermont in April.
Le MHR have already announced the arrival of Hape's replacement in the form of New Zealander Hamish Gard. A product of the Canterbury Academy, the 27-year-old former Crusader arrives from the Red Hurricanes in Japan, where the season is already over.