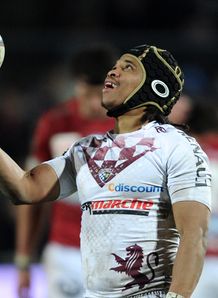 On a day marked by upsets, Top 14 leaders Toulon were given a 41-0 thrashing by relegation threatened Bordeaux-Bègles while Toulouse lost in Agen.
The bottom four clubs were victorious this weekend while the leading trio all lost as Mont-de-Marsan claimed only their second win of the season over high-flying Grenoble.
Elsewhere, Castres bounced back from three consecutive losses with a bonus-point win over Stade Français while Bayonne continued their revival against Perpignan.
In the late game, Montpellier came from behind to beat Biarritz.
Results:
Racing Métro 12-6 Clermont - Report here
Agen 22-9 Toulouse
Bayonnais 13-10 Perpignan
Bordeaux-Bègles 41-0 Toulon
Castres 44-13 Stade Français
Mont-de-Marsan 32-14 Grenoble
Montpellier 33-10 Biarritz
---
SU Agen 22-9 Stade Toulousain
Stade Armandie, Agen
Toulouse coach Guy Novès slammed his team for not turning up as they lost second place in the standings as a result of yet another disjointed performance.
"It was a non-match. Agen deserved to win," said Novès of the defending champions' showing.
Despite the much-needed win, Agen, who led 11-6 at the break, do not move away from the relegation zone since the bottom four all won.
The scorers:
For Agen:
Tries: Bales, Muller
Pens: Barnard 3
Drops: Barnard
For Toulouse:
Pens: Beauxis 3
Agen: 15 Ben Seymour, 14 Saimoni Vaka, 13 Miguel Avramovic, 12 Senio Junior Pelesasa, 11 Nafitalai Henry Tuitavake, 10 Conrad Barnard, 9 Alexi Bales, 8 Ueleni Fono, 7 Remi Vaquin, 6 Jean Monribot, 5 Ross Skeate, 4 Lisiate Faaoso, 3 Viliamu Afatia, 2 Jalil Narjissi, 1 Bernard N Nomo,
Replacements: 16 Semisi Telefoni, 17 John Schwalger, 18 Esteban Lozada, 19 Pierre Julien, 20 Mathieu Loree, 21 Ilaitia lekaiwala Tagotago, 22 Silvere Tian, 23 Gert Muller.
Toulouse: 15 Clement Poitrenaud, 14 Maxime Medard, 13 Yann David, 12 Yannick Jauzion, 11 Timoci Matanavou, 10 Lionel Beauxis, 9 Jean Marc Doussain, 8 Gregory Lamboley, 7 Yannick Nyanga, 6 Jean Bouilhou, 5 Patricio Albacete, 4 Romain Millo chlusky, 3 Yohan Montes, 2 Gary Botha, 1 Gurthro Steenkamp.
Replacements: 16 Jaba
Bregvadze, 17 Antoine Guillamon, 18 Karl Chateau, 19 Sylvain Nicolas, 20 Luke Burgess, 21 Luke Mcalister, 22 Yves Donguy, 23 Census Johnston.
---
Aviron Bayonnais 13-10 USA Perpignan
Stade Jean Dauger, Bayonne
In heavy rain, Bayonne continued their revival with their third consecutive win and the closest result of the day.
A losing bonus point for Perpignan means the Catalans are now eighth, three points short of the play-off zone.
Three yellow cards didn't help the visitors' cause as they played most of the second half a man down.
Bayonne led 13-10 at the break and the scorers were not troubled in the second half.
The scorers:
For Bayonne:
Tries: Penalty try
Cons: Potgeiter
Pens: Potgeiter 2
For Perpignan:
Try: Michel
Con: Mele
Pen: Mele
Yellow cards: Haughton, Guirado, Mele
Bayonne: 15 Scott Spedding, 14 Sam Gerber, 13 Joe Rokocoko, 12 Gabiriele Lovobalavu, 11 Marvin O'Connor, 10 Jacques Louis Potgeiter, 9 Cedric Garcia, 8 Dwayne Haare, 7 Julien Puricelli, 6 Jean Joseph Marmouyet, 5 Mark Chisholm, 4 Dewald Senekal, 3 Nemiah Tialata, 2 David Roumieu, 1 Aretz Iguiniz,
Replacements: 16 Gregory Arganese, 17 Vitolio Manukula, 18 Abdellatif Boutaty, 19 Marc Baget, 20 Guillaume Rouet, 21 Benjamin Boyet, 22 Thibault Lacroix, 23 Renaud Boyoud.
Perpignan: 15 Joffrey Michel, 14 Richard Haughton, 13 Lifeimi Mafi, 12 Sione Piukala, 11 Adrien Plante, 10 Gavin Hume, 9 David Mele, 8 Henry Tuilagi, 7 Bertrand Guiry, 6 Daniel Leo, 5 Bobins Tchale Watchou, 4 Guillaume Vilaceca, 3 Kisi Pulu, 2 Guilhem Guirado, 1 Sona Taumalolo.
Replacements: 16 Romain Terrain, 17 Sebastien Taofifenua, 18 Romain Bezian, 19 Luke Narraway, 20 Florian Cazenave, 21 Farid Sid, 22 David Marty, 23 Jeremy Castex.
---
Castres Olympique 44-13 Stade Français Paris
Stade Pierre Antoine, Castres
After five consecutive losses in all competitions, Castres bounced back in the best possible way: with a bonus-point win to close the gap on the leading trio.
CO led 20-6 at the interval with three of their five tries coming after the break, including Romain Cabannes' second.
Stade Français's continued poor form on the road leaves them five points off the play-off places.
The scorers:
For Castres:
Tries: Cabannes 2, Andreu, Taumoepeau, Teulet, Martial
Cons: Kockott 5
Pens: Kockott 2
Drop: Bai
For Stade Français:
Try: Warwick
Con: Dupuy
Pens: Dupuy 2
Yellow cards: Wright
Castres: 15 Romain Martial, 14 Marcel Garvey, 13 Romain Cabannes, 12 Seremaia Bai, 11 Marc Andreu, 10 Daniel Kirkpatrick, 9 Rory Kockott, 8 Antonie Claassen, 7 Yannick Caballero, 6 Jan de bruin Bornman, 5 Rodrigo Capo Ortega, 4 Christophe Samson, 3 Karena Wihongi, 2 Brice Mach, 1 Saimone Taumoepeau.
Replacements: 16 Marc Antoine Rallier, 17 Michael Coetzee, 18 Matthias Rolland, 19 Pedrie Wannenburg, 20 Romain Teulet, 21 Remi Lamerat, 22 Remi Tales, 23 Anton Peikrishvili.
Stade Français: 15 Hugo Bonneval, 14 Francis Fainifo, 13 Paul Williams, 12 Geoffrey Doumayrou, 11 Jeremy Sinzelle, 10 Paul Warwick, 9 Julien Dupuy, 8 David Lyons, 7 Antoine Burban, 6 Pierre Rabadan, 5 Gerhard Mostert, 4 Anton van Zyl, 3 David Attoub, 2 Laurent Sempere, 1 Aled de Malmanche.
Replacements: 16 Remi Bonfils, 17 Rabah Slimani, 18 Scott Lavalla, 19 Olivier Missoup, 20 Jerome Fillol, 21 Jules Plisson, 22 Jerome Porical, 23 Stanley Wright.
---
Union Bordeaux-Bègles 41-0 Rugby Club Toulonnais
Stade Jacques Chaban-Delmas, Bordeaux
Something stinks about this result, especially in the light of Toulon president Mourad Boudjellal's comments on Friday that his club should be reimbursed for the wages of their French internationals on duty in Paris.
Despite fielding a team packed with world-class players, Toulon were totally dominated and trailled 20-0 at half time.
UBB fly-half Camille Lopez was brilliant, orchestrating a great attacking display from the hosts.
RCT were never up for the fight but nevertheless retain the championship lead.
The scorers:
For Bordeaux-Bègles:
Tries: Avei, Clarkin, Madaule, Munro
Cons: Lopez 4
Pens: Lopez 2
Bordeaux-Bègles: 15 Bruce Reihana, 14 Metuisela Talebulamaijaina, 13 Julien Rey, 12 Felix Le Bourhis, 11 Rafael Carballo, 10 Camille Lopez, 9 Heini Adams, 8 Matthew Clarkin, 7 Justin Purll, 6 Louis Benoit Madaule, 5 Adam Jaulhac, 4 Cameron Treloar, 3 Silviu Florea, 2 Wayne Avei, 1 Laurent Delboulbes.
Replacements: 16 Hikairo Forbes, 17 Jefferson Poirot, 18 Francois Tisseau, 19 Hugh Chalmers, 20 Julien Seron, 21 Lachie Munro, 22 Blair Connor, 23 Tamato Leupolu.
Toulon: 15 Vincent Martin, 14 Rudi Wulf, 13 Geoffroy Messina, 12 Matt Giteau, 11 David Smith, 10 Jonny Wilkinson, 9 Nicolas Durand, 8 Juan Martin Fernandez Lobbe, 7 Steffon Armitage, 6 Pierrick Gunther, 5 Nicholas Kennedy, 4 Bakkies Botha, 3 Levan Chilachava, 2 Sebastien Bruno, 1 Andrew Sheridan.
Replacements: 16 Jean Charles Orioli, 17 Xavier Chiocci, 18 Virgile Bruni, 19 Joe van Niekerk, 20 Ivan Roux, 21 Benjamin Lapeyre, 22 Alexis Palisson, 23 Carl Hayman.
---
Stade Montois 32-14 FC Grenoble
Stade Guy Boniface, Mont-de-Marsan
Mont-de-Marsan's second win of the season - which came with a bonus point - does nothing to ease their relegation status as all three teams above them also got positive results.
Grenoble's loss in a major blow to their play-off ambitions however as four clubs are now within striking distance of their sixth place. They are still yet to win away from home.
The scorers:
For Mont-de-Marsan:
Tries: Cabannes 2, Arrayet, Tastet
Cons: Arrayet 3
Pens: Duvalle
Yellow card: Bost
For Grenoble:
Try: Coetzee
Pens: Pelissie 2
Drop: Stewart
Yellow card: Bernard
Mont-de-Marsan: 15 Simon Lucu, 14 Martin Jagr, 13 Jean Baptiste Dubie, 12 Baptiste Chedal, 11 Julien Cabannes, 10 Bernard Arrayet, 9 Arnaud Pic, 8 Alexandre Ricaud, 7 Vassili Bost, 6 Julien Tastet, 5 Berend Botha, 4 Wame Lewaravu, 3 Tevita Mailau, 2 Ephraim Taukafa, 1 Alexandre Menini.
Replacements: 16 Thomas Bordes, 17 Julian Fiorini, 18 Philipus Liebenberg, 19 Haisini Taulanga, 20 Antoine Vignau Tuquet, 21 Daniele Baleinadogo, 22 Thibault Duvallet, 23 Mathieu Giudicelli.
Grenoble: 15 Joaquin Tuculet, 14 Lucas Dupont, 13 Rida Jaouher, 12 Nigel Hunt, 11 Rudolf Coetzee, 10 Blair Stewart, 9 Valentin Courrent, 8 Florian Faure, 7 Henry Vanderglas, 6 Roland Bernard, 5 Andrew Farley, 4 Benjamin Hand, 3 Dayna Edwards, 2 Anthony Hegarty, 1 Kenan Mutapcic.
Replacements: 16 Romain David, 17 Vincent Campo Castillo, 18 Jonathan Best, 19 Richard Sowerby, 20 Fabien Alexandre, 21 Matthieu Nicolas, 22 Jonathan Pelissie, 23 Albertus Buckle.
---
Montpellier Hérault Rugby 33-10 Biarritz Olympique
Stade Yves Du Manoir, Montpellier
Montpellier came from 10-6 down late in the first half to claim what was ultimately a comfortable win.
The hosts missed out on a bonus point despite pushing hard in the closing stages but they still return to fourth place in the standings, while Biarritz are left in tenth.
Montpellier led 13-10 at the break after BO had taking the early lead thanks to Toulouse-bound fly-half Jean Pascal Barraque's try.
The scorers:
For Montpellier:
Tries: Paillaugue, Nagusa, Penalty try
Cons: Paillaugue 2, Bustos Moyano
Pens: Paillaugue 4
For Biarritz:
Try: Barraque
Con: Yachvili
Pen: Yachvili
Yellow cards: Brew
Montpellier: 15 Lucas Gonzales Amorosino, 14 Timoci Nagusa, 13 Thomas Combezou, 12 Paul Bosch, 11 Yoan Audrin, 10 Santiago Fernandez, 9 Benoit Paillaugue, 8 Alex Tulou, 7 Remy Martin, 6 Alexandre Bias, 5 Thibaut Privat, 4 Mickael De marco, 3 Maximiliano Bustos, 2 Agustin Creevy, 1 Juan Figallo,
Replacements: 16 Charles Geli, 17 Yvan Watremez, 18 Hendrikus Hancke, 19 Kelian Galletier, 20 Julien Tomas, 21 Matthew Carraro, 22 Martin Bustos Moyano, 23 Barry Faamausili.
Biarritz: 15 Iain Balshaw, 14 Takudzwa Ngwenya, 13 Benoit Baby, 12 Marcelo Bosch, 11 Aled Brew, 10 Jean Pascal Barraque, 9 Dimitri Yachvili, 8 Imanol Harinordoquy, 7 Talalelei Gray, 6 Benoit Guyot , 5 Thibault Dubarry, 4 Erik Lund, 3 Eugene Van staden, 2 Benoit August, 1 Thomas Synaeghel.
Replacements: 16 Arnaud Heguy, 17 Fabien Barcella, 18 Pelu Ian Taele, 19 Raphael Lakafia, 20 Yann Lesgourgues, 21 Julien Peyrelongue, 22 Charles Gimenez, 23 Francisco Gomez Kodela.