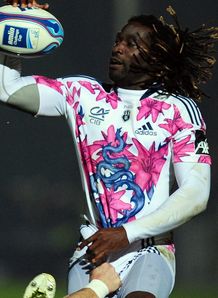 According to reports in the Parisian press, former England winger Paul Sackey's contract at Stade Franšais will not be renewed.
33-year-old Sackey, who has 22 caps for England, arrived in the French capital from Toulon in 2011 and became a regular feature in the Stade Franšais side under now-departed coach Michael Cheika.
This season however he has played less than half of Stade's Top 14 games and has yet to score a try.
Likewise, L'Equipe reports that former Brumbies winger Francis Fainifo is also on his way out. The 27-year-old has played just five Top 14 games this season.
In other news from the French transfer market, Midi Olympique reports that 21-year-old Biarritz fly-half Jean-Pascal Barraque is expected to move to Toulouse next season.