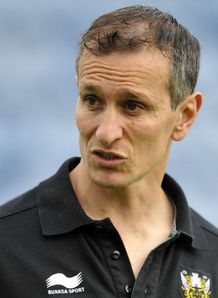 Related links
Teams
Northampton's caretaker back-line coach Alan Dickens admits that he is keen to fulfill his new role on a permanent basis.
Dickens, who is Saints' academy manager, was brought into the first team set-up after Paul Grayson left the club by mutual consent at the end of November.
Saints boss Jim Mallinder said that he has several options to replace Grayson but Dickens believes that he is capable of doing the job permanently.
"For me to say I didn't (want the job) would be daft and I think that's the same for a player," Dickens told the Northampton Chronicle and Echo.
"If you ask a player from a Championship club or below how much do you want to be involved in a professional outfit they'd bite your hand off.
"I'm enjoying the day to day work, planning for the week and the involvement on a matchday as well.
"In terms of my development as a coach I want to be the best I can be. If it happens it happens, that's really out of my hands.
"All I can do is work hard and put the time and effort in."
The former Northampton scrum-half revealed that replacing Grayson - who had a 19-year association with the club as a player and coach before his departure - was not an easy task.
"I was lucky enough to play under Grays for my last two years then coming over onto the academy side, learning from him because he understood the game," said the 36-year-old.
"He's a club legend and it is a tough act to follow."
Dickens said he was enjoying working with Mallinder, forwards coach Dorian West.
"I'm still sitting at my desk in the academy room, so I'm not quite in there yet but it's good," he said.
"We're honest, we're up front, we talk about rugby so it's good."
He is also excited to work with the club's senior players.
"We've got some really, really good players at the club," added Dickens.
"We've got people who can play at pace, catch, pass, be precise and score tries. We just need to click."