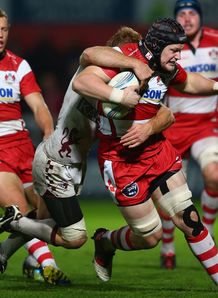 Related links
Teams
Gloucester lock Tom Savage has signed a new three-year deal to stay at Kingsholm until 2016.
Savage has risen up the ranks at Gloucester and the 23-year expressed his delight at being able to stay at Kingsholm for the foreseeable future, having had an impressive season so far.
"The nicer things people say about you, the more is expected of you," said Savage.
"You've got to keep up with that, you've got to keep playing well to back up what they've said really, so the pressure's never off.
"The coaching staff have come out and offered me that deal, and it's great they've shown that faith in me and hopefully I can repay that with the way I play.
"With a new coach coming in this season you never know how that person will rate you as a player, or how he's going to rate you.
"So for him to come in, for me to have chances in the side, and then to be one of the first playersto be sorted out as well, I feel very privileged with that.
"I'm happy to have this security, I know where I'm going to be for the next three years and I can concentrate on my rugby. I'm pretty happy where I am and this is a great place to be."