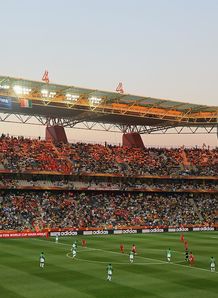 Related links
Teams
Also see
South Africa will host Scotland, Italy and Samoa in a four-team tournament in June 2013.
The Springboks will face their Rugby World Cup 2015 Pool B opponents, Scotland and Samoa, as well as Italy, in an innovative new tournament featuring double-header Test matches in 2013, the South African Rugby Union announced on Thursday.
Fans will be able to watch two Test matches for the price of one after a ground-breaking decision of the Executive Council (Exco) overhauled the way that Test matches are run in South Africa.
The tournament - which will be played on a log basis over two rounds to determine finalists - will open at the Mbombela Stadium in Nelspruit on June 8.
For the first time in Springbok history, Test matches will be solely hosted by the mother body rather than the host provinces.
"SARU was the only major union in world rugby that didn't properly own its own Test matches," explained CEO Jurie Roux.
"The decision by the Exco now gives ownership to SARU.
"The key benefits will be in allowing us to plough a share of the profits back into all the provincial unions and, that by controlling the ticket office and all commercial activity in the stadium, we will be able to provide an experience for our stakeholders on a par with what we experience when playing overseas."
Roux explained that the existing model had seen SARU effectively 'sell' Springbok Test matches to the major provinces. The Test-hosting unions paid a rights fee (the amount of which was dependent on the stature of the opponent) and then set ticket prices and kept all receipts as well as commercialising aspects of the match as they saw fit.
"This is a major change in how rugby is run and will present challenges," said Roux. "But the major effect is that it has placed Springbok Tests in the ownership of the mother body, for the benefit of all rugby's stakeholders.
Fixtures:
2013 Incoming Tour:
Saturday, June 8 (Mbombela Stadium, Nelspruit): Scotland v Samoa; Springboks v Italy

Saturday, June 15 (Mr Price Kings Park, Durban): Samoa v Italy; Springboks v Scotland

Saturday, June 22 (Loftus Versfeld, Pretoria): Team 3 v Team 4 ; Team 1 v Team 2
2013 Rugby Championship:
Saturday, August 17 (Free State Stadium, Bloemfontein): Springboks v Argentina

Saturday, September 28 (Newlands, Cape Town): Springboks v Australia

Saturday, October 5 (Coca-Cola Park, Johannesburg): Springboks v New Zealand