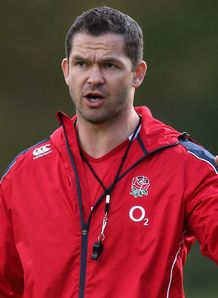 Related links
Teams
England defence coach Andy Farrell feels his side must show plenty of resolve if they are to beat the Springboks at Twickenham on Saturday.
Farrell wants England's to invoke the spirit of Port Elizabeth where they met the Boks' physical onslaught head-on and managed a creditable 14-14 draw in the third Test of the three match series in June.
That result meant that England managed to avoid a 3-0 whitewash, and Farrell expects them to put in a similar showing on their home turf on Saturday.
"We've got to remind the team of Port Elizabeth," he said.
"In that game we took our defensive game to them and that is how it has got to be this weekend.
"There was a fighting spirit in that game. It shone out massively, you could see our intent to not let South Africa do what they do best, which is batter the gain-line door down. We did it well that day.
"The South Africans were pretty annoyed to draw that game.
"They realised we were good that day, we got among them and got stuck in and I'm sure they will pick a team to combat that.
"South Africa have a way of playing, they don't change much and they have some big boys.
"But they will have a few intricacies. You have to expect the unexpected."