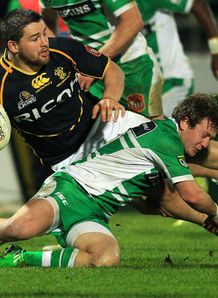 Related links
Also see
Regional derbies have dominated the picks made by Provincial Unions in Thursday's selection of opposition for crossover matches in ITM Cup 2013.
The selection process was conducted by web-conference with chief executives from each of the unions, and with ITM Cup coaches in Wellington.
New Zealand Rugby Union (NZRU) General Manager Professional Rugby Neil Sorensen welcomed many of the picks which saw the majority of Unions favouring derby battles.
"It's great to think that the preparations for next year's ITM Cup have already started. We know that each team will play every other team in their Premiership or Championship, plus four crossover matches," Sorensen said.
"I know that they are already thinking about the other teams they'll face, and they will start factoring the picks made today into their campaign planning for next year."
The first of the crossover matches has already been determined based on seedings after this year's competition. The other three crossover matches were selected in three rounds.
The scheduling of all games will be confirmed when the draw is finalised early next year.
Confirmed crossover matches for 2013 ITM Cup
The automatic crossover matches already determined by the 2012 finishing order (host province listed first) are:
North Harbour v Canterbury (14 v 1)
Manawatu v Auckland (13 v 2)
Northland v Wellington (12 v 3)
Southland v Taranaki (11 v 4)
Tasman v Waikato (10 v 5)
Otago v Bay of Plenty (9 v 6)
Hawke's Bay v Counties Manukau (8 v 7)
The three other crossover games (per team) have been picked by the provinces as follows - with Thursday's selection highlighted in green:
1st round of picks: Championship teams picked a Premiership team, in reverse seeding order (eg, 14th to 8th), for a home Championship match:
14 North Harbour v Counties Manukau
13 Manawatu v Taranaki
12 Northland v Bay of Plenty
11 Southland v Waikato
10 Tasman v Canterbury
9 Otago v Auckland
8 Hawke's Bay v Wellington
2nd round of picks: Premiership teams picked a Championship team, in seeding order (eg 1st to 7th), for a home Premiership match:
1 Canterbury v Otago
2 Auckland v North Harbour
3 Wellington v Manawatu
4 Taranaki v Hawke's Bay
5 Waikato v Northland
6 Bay of Plenty v Southland
7 Counties Manukau v Tasman
3rd round of picks: Championship teams picked a Premiership team, in seeding order (eg. 8th to 14th), for an away Championship match (note the second team hosts the match):
8 Hawke's Bay v Bay of Plenty
9 Otago v Waikato
10 Tasman v Taranaki
11 Southland v Counties Manukau
12 Northland v Auckland
13 Manawatu v Canterbury
14 North Harbour v Wellington