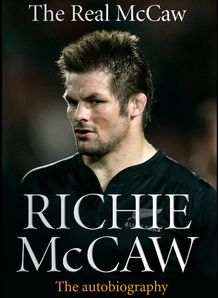 Related links
Teams
All Blacks captain Richie McCaw has revealed how he had to play through the pain caused by a broken foot during the World Cup in his autobiography.
McCaw has revealed how he hid the full extent of the injury that threatened to destroy his dream of lifting the World Cup.
This extract from The Real McCaw: The Autobiography by Richie McCaw appeared in our free weekly newsletter, The Crooked Feed last week. All you have to do is click here and sign up to receive our weekly email.
...My foot wasn't pretty after the Argentinian game. During the build-up to Australia, in my mind I kept going back to the week before, when it had improved enough to train after four days of rest and anti-inflams. But this time, after four days I still couldn't train, I couldn't risk it. I went out in my gym shoes and stood beside Aaron and Beaver, who Ted had found whitebaiting somewhere. Beaver dropped his net and picked up the ball and ran with it, keen as. He's a good bugger.
Out at training, there were three of us standing round in our gym shoes, all leaders of our mini units, all crocked. Mils, with his cracked shoulder and Dan, back after his op. The guys in their respective units asked if Dan and Mils could come back to keep leading them, and they did. Dan's bloody amazing - no one would have begrudged his right to stay home and cry into his beer, but he came straight back to help as soon as he got out of hospital. Mils too, stranded on his 100th game and invalided out of his chance, after three RWCs, to play for the Cup.
The 'what else?' feeling had gone. We'd got used to the new normal. All that preparation for the unexpected seemed to have worked. Rather than thinking, Shit, why is all this happening to us, we're thinking, Bring it on.
We heard during the week that the Aussie camp was pretty confident. I'm not sure where this information came from, but there are people in and out of the teams' hotels all the time, and secrets are hard to keep. I know that - trying to get around the hotel without limping on my 'niggle'. However accurate the rumour might have been, it was great to hear that they were confident. I don't go along with most people who say the Wallabies are more dangerous when they're confident. I reckon they're more vulnerable.
I don't know whether the Aussies heard any rumours about us, but if they'd heard the truth, they would have been alarmed: that was the best-prepared All Black team I've ever been a part of. I knew the Aussies were going to get it. Part of it was an address on Thursday evening from Willie Apiata. He may not be a great public speaker, but he carried an aura. He talked about what he did when he won the VC, and why he did what he did, what drove him. As much as he fought for his country and his family, the main driver was his mates, the ones who stood at his shoulder, upon whom he depended for his life. I could see from the rapt faces around me that his words were sinking in. We were mates. We didn't have to face live rounds, but we were in this together and we'd get it done.
On the way to the ground on the bus, I looked out on the Great North Road part of the Fan Trail and saw a sign on one of the car yards.
I HOPE YOU'RE READY QUADE. RICHIE IS.
I wondered whether Cooper had seen it when the Aussie bus went by.
Once again, the only spoiler of a great night was my foot.
During the warm-up I didn't feel it too much, but five minutes into the game I felt it again. Something letting go. A clunk or pop or crack. The pain came back.
Again, when the ball was in play, I could get through and not think about it. It didn't inhibit me actually running around and doing things. I could put it to the side. But as soon as the whistle went and there was a line-out 30 metres away, jogging over there was bloody sore. I'd told Deb that I'd play as long as I could do my job without thinking about the pain, but as soon as I started thinking about the foot while the ball was actually in play, and the pain started affecting the decisions I was making about what I would do, that would be the time to quit.
It was sore all the way through the semi, but only really sore when the whistle went. One of the most challenging bits was running up the tunnel at halftime. Getting on and off the field was complete agony.
But when the final whistle went, the score was 20 points to 6, and we were into the final of the RWC.
Reproduced from The Real McCaw: The Autobiography by Richie McCaw, Published by Aurum Press, £20.