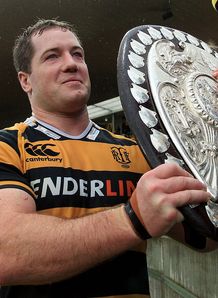 Related links
Teams
Also see
Ireland's selection of Taranaki prop Michael Bent has raised plenty of eyebrows over the IRFU's failure to produce quality props locally.
The 26-year-old qualifies for Ireland through his grandmother, and is expected to make his Ireland debut during the upcoming November internationals having not played a single game for his club side, Leinster.
Having Bent 'parachuted' into immediately being selected for his country has once again brought under the spotlight the IRB laws regarding qualification to play Test rugby.
The inclusion of Richardt Strauss in the Ireland squad for this month's internationals was also met with some opposition, despite Strauss having played his club rugby in Ireland for three years with Leinster and in that time winning two Heineken Cups.
Speaking to Newstalk's "Off the Ball" programme last week, former Ireland skipper Keith Wood was explicit in his views regarding Bent's selection.
"It can't be, it can't be that easy to play for Ireland as to get onto a flight and fly into the country. It can't be. I find it wrong," said Wood.
"There is something unpalatable about a guy who hasn't played a game in this country to go and play (for Ireland).
"We know he has played 10 or 11 games (for Taranaki) down in New Zealand and apparently he's good, and all that, but this is playing for your country. It isn't playing for Leinster.
"How in the name of Jesus are we getting to the point where a guy flies into the country and he will play for Ireland?"
Wood's view is not uncommon and the fact is the IRFU's production of quality prop forwards over the last decade has been sub-standard.
For years Ireland mercilessly flogged Marcus Horan and John Hayes due to a lack of quality alternatives, the two Munstermen amassing 172 caps between them.
Now the baton has been passed on to Cian Healy and Mike Ross, although age is not on Ross' side at 32. Healy has been an integral part of Leinster and Ireland's success in recent years and aged 25 has potentially a decade of playing time ahead of him, but without regular competition for his place he will simply burn out.
A series of outstanding foreign props have been brought in by the Irish provinces in recent years - John Afoa, BJ Botha, Nathan White, Wian du Preez and Heinke van der Merwe to name a few - with many operating as starters.
Whilst doing so may have increased the chances of success at club level - four of the last five Heineken Cups have been won by Irish sides - the end result is young Irish talents at both loosehead and tighthead have been denied opportunities.
This was highlighted when Ireland took on England at Twickenham during last year's Six Nations championship. With Mike Ross off injured, Tom Court was found wanting on the tighthead side of the scrum - not his specialist position.
If Ross picked up a long-term injury tomorrow, without Bent the talent is arguably not there to replace him.
That is not to say that Ireland are without prospects. Jamie Hagan, Declan Fitzpatrick and David Kilcoyne all have potential but are far from ready for Test rugby.
With Bent available to play immediately, Ireland cannot turn him down. Wood may not be happy with the circumstances, but the outlay on foreign props and failure to nurture strong depth on both sides of the scrum has forced Ireland's hand.
It all means that according to The Irish Times, Bent could become the first man to play for Ireland without playing a provincial game since Brian O'Driscoll.
By Ben Coles