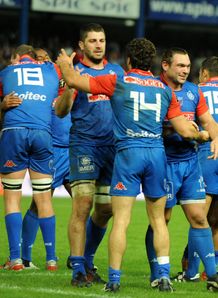 Grenoble kicked off their Amlin Challenge Cup campaign with a bang thanks to a 59-3 win over Cavalieri Prato at the Stade Lesdiguieres on Friday.
The eight-try victory was a perfect return to the competition by the Top 14 after a seven-year absence and sounded out a warning to their Pool 5 rivals in the process.
I Cavalieri Prato held Grenoble to a 19-3 half-time lead, but the floodgates opened up after the break and further tries from Flavein Nouhaillaguet, Gregory Fabro, Alexandre Pollard and Jonathan Pelissie completed the one-sided affair.
Meanwhile, Bayonne also posted a high-scoring victory after thumping Mogliano 71-7 at the Stade Jean Dauger. The French outfit bagged a total of 11 tries with winger Marvin O'Connor leading the way with two touchdowns.