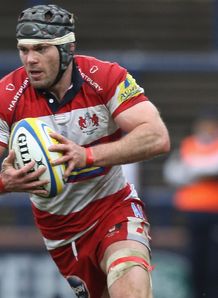 Related links
Teams
Gloucester flanker Andy Hazell claims he reacted to provocation in Thursday's Amlin Challenge Cup clash against Mont-de-Marsan in France.
Hazell received a red card midway through the second-half for punching a Mont-de-Marsan player during Gloucester's 11-6 victory.
Video footage also showed that the former England international aimed his knee at the opponent's head.
But Gloucester boss Nigel Davies revealed that his club will cite at least one Mont-de-Marsan player following a game that Gloucester won.
There are strong suggestions that Hazell's violent reaction came after he was eye-gouged.
Davies told the Gloucester Citizen that Hazell's eye was "severely sore and very red".
"We'll speak to the citing commissioner, and there will be something done there," he said.
"We can't condone what was done from a Gloucester view, but that was a reaction to what went on before.
"We will take our punishment, but I think they (Mont-de-Marsan) need to take their punishment too.
"We'll look at the video, and from what I've seen already I'm sure we will make a complaint.
"The doctor's had a look at Andy's eye. It was severely sore and very red.
"And we took some pictures of that, because that was damning evidence in its own right.
"He's disappointed with himself, but I think there were three incidents before that with the same player and he's caught him off the ball again, and unfortunately Andy snapped."
Hazell, meanwhile, took to Twitter to express his frustration at his sending off.
Never had a red in 12 years, extremely embarrassed by my actions," tweeted the 34-year-old.
"It was the third time someone tried to severely injury (sic) me, and I reacted."
Hazell is expected to receive a lengthy ban from tournament disciplinary chiefs.
Gloucester's next Challenge Cup match is against another French club - Bordeaux-Begles - at Kingsholm next Thursday.