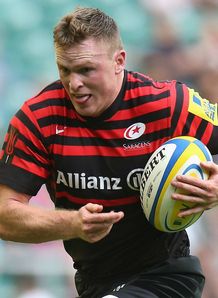 Related links
Teams
Saracens have confirmed that Chris Ashton was glassed during a night out in London on Saturday.
The England back, who was out with team-mates and their wives and girlfriends, suffered minor cuts to his face in the attack by a stranger.
And Saracens were quick to absolve the 25-year-old of any blame.
"Since arriving at the club, Chris has proved himself an outstanding member of the Saracens family, on and off the field," said the club's chief executive Edward Griffiths.
"It is a reality that well known sports people are provoked by strangers and subsequent events are instantly tweeted.
"People will inevitably see this story and say an England rugby player is in trouble again. For clarity, Chris Ashton is not in trouble at all. On the contrary, he was celebrating an anniversary with his girlfriend and showed admirable restraint."