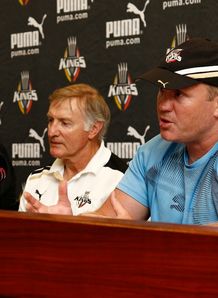 Related links
Teams
Also see
Kings director of rugby Alan Solomons has praised fly-half Demetri Catrakilis for his match-winning drop goal against the Rebels.
Catrakilis' late strike snatched a 30-27 victory for the Kings for only their second ever win in Super Rugby, but Solomons and fellow coach Matt Sexton were critical of their side for losing focus after a promising opening period.
The win concluded an excellent tour for the Kings, with the success over the Rebels coming a week after clinching a surprise draw against the Brumbies.
"We knew Demetri [Catrakilis] could do it, he's done it before at Currie Cup and Vodacom Cup level, and he has a wonderful temperament under pressure," said Solomons.
"Before this it was already a good tour, but the win has turned this into a fantastic tour."
"We lost momentum and eased off after the first ten minutes or so, and our exiting our own half was poor, we gave away too many penalties which meant we made work for ourselves.
"A win when you're not playing well, that says a lot about the team."
"Of course we're exceptionally happy with the four log points, and the overall result, but we battled in the middle of the game," said Sexton.
"The problem is that we perhaps had too much of a good start and the guys took their foot off the gas and relaxed a little, which allowed the momentum to sway in the Rebels favour.
"We have got to learn to keep the pressure on, but this is also a learning curve for us and this was another lesson learnt.