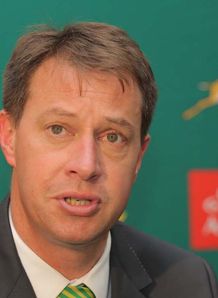 Related links
Teams
Also see
SARU has established an investigation into a suspected breach of their Super Rugby participation agreement by the Kings.
According to a SARU press release, the governing body's CEO Jurie Roux has contacted Cheeky Watson - the chairman of the Kings board - on Tuesday to advise him of the inquiry and also to caution him against any potential breaches.
The matter was discussed by an emergency teleconference of SARU's executive council on Tuesday.
The executive council, in accordance with the SARU disciplinary and judicial regulations, decided to appoint a judicial sub-committee to investigate the allegation.
In the event of a breach being proved there is a wide range of sanctions available, starting from a caution to a maximum fine of one million rand or a recommendation to the general council to suspend or expel the offending organisation.