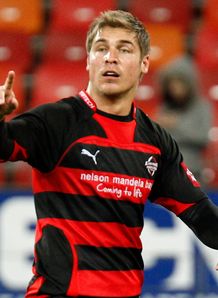 Related links
Teams
The Kings will be without Michael Killian for an additional four weeks, after the speedster refractured his arm last week.
Kings Director of Rugby Alan Solomons has confirmed that the former Lions wing damaged his arm during training and will not be taking part in any contact until the bone has reknitted.
"He will be out for another four weeks," said Solomons in the build up to Friday's clash with the defending champions, the Chiefs, in Port Elizabeth.
Solomons added that there are also concerns around Jacques Engelbrecht, who is nursing sore ribs following Saturday's narrow loss to the Sharks.
"He has been for x-rays and everything looks okay, but we will be keeping a close eye on him and see how his recovery goes during the week," he said.
There is still some concern around the injury to Luke Watson's throat following the game against the Western Force.
Watson saw a specialist last week and was withdrawn from the game against the Sharks, after originally being named on the bench.
"Luke will be doing further tests this week and will be going back to the specialist later in the week," he said.