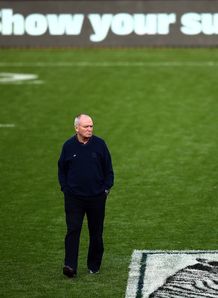 Related links
Teams
Veteran Argentina centre Felipe Contepomi has credited the positive impact of consultant coach Graham Henry on the squad.
Henry linked up with the the Pumas after leading New Zealand to Rugby World Cup glory in 2011.
Now into his second season working as a consultant for Argentina, the impact Henry has had on the Pumas' confidence and attacking game has been praised by Contepomi.
"When he arrived last year, he said, 'if you attack the way you defend, you could be world champions'," said Contepomi.
"We defend with a lot of mentality, a lot of passion, but sometimes we don't have the same belief in attack. So we are trying to change that. He added a lot of confidence and knowledge in the way to attack.
"He knows the Wallabies much better than we do, and it's great to have his inside knowledge. He can add to our rugby culture."
Argentina arrive in Australia with the Wallabies having lost their last four Test matches, conceding a total of 153 points in the process.
Contepomi though is more than aware of an Australian retaliation, despite many tipping an Argentinian win following their impressive performance in defeat to New Zealand last weekend.
"Sometimes when teams are in crisis, they become stronger," added Contepomi.
"They've got great individual players and great coaches. It will soon click, but hopefully not on Saturday.
"Australia is a better team than us, and they will be after the game. But they need to prove it in those 80 minutes. You never know what could happen. If we could play good rugby and have a victory, it would mean a lot to us."