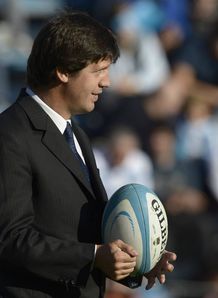 Related links
Teams
Argentina coach Santiago Phelan concedes that his team are coming to terms with the harsh reality of life in the Rugby Championship.
The Pumas performed commendably during their debut season in the competition, drawing with the Springboks and running Australia close 23-19 away from home.
However, their 2013 campaign got off to a horror start last week when Phelan's men where thumped 73-13 by South Africa in Soweto.
As they prepare to take on the Springboks once more, this time in Mendoza, Phelan admits they have very much been brought back to earth.
"We had a lot of things to do this week, starting with the mentality of the players," he said.
"The team realises that the second season is going to be much tougher than the first and we are up against the three best teams in the world.
"We need to grow up, we need to learn about intensity, we need to keep playing the top teams in order to learn and improve."
Centre Marcelo Bosch expressed similar sentiments earlier in the week.
"Maybe last year we also lost matches by big scores, but I felt the team were there and confident in what they were doing. Last Saturday it was different," he said.
"What we had been building for a long time was broken," he told reporters after a midweek practice.
"We weren't mentally prepared to handle what was happening to us. The challenge is to recover our identity in defence, which served us so well last year, and our game with the pack."