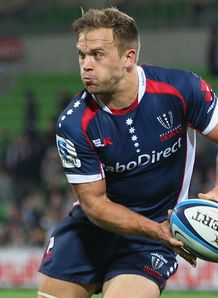 Related links
Teams
Melbourne Rebels back Lachlan Mitchell is set to retire following his release at the end of the season at the age of 26.
Mitchell has played 50 games for the Rebels, including last year's fixture with the British and Irish Lions, but has been sidelined in 2014 through injury.
With new backs including Cam Crawford and Dom Shipperley arriving in Melbourne next year, Mitchell's time was up.
"(Rebels coach) Tony (McGahan) was pretty upfront, which I appreciated," Mitchell told AAP.
"He basically said it was a tough decision and just with the talent that they had available, guys like Shipperley and Crawford ... they didn't say this but I'm just (surmising), they wanted to try new things and I totally respect that."
Rather than join another club, Mitchell revealed that he had decided to retire and to focus on life after rugby after not finding a prospective team that he felt excited about.
"I'm quite a passionate guy and I'd rather play for a team that I believe in - and that just didn't come up this time," added Mitchell.
"I've always thought about what I'd do after rugby. I do love playing though, so - like any player - you could keep playing but ... the rugby career is such a short part of your life.
"I've had a good time with what I've done. I probably haven't achieved as much as other players, but at the same time I think I've done well for me and I've enjoyed it and I've got a lot out of it.
"Probably, like most players, there are times when you are feeling extremely confident and you think that you can conquer the world, and there are other times you are probably a bit down and you think you're lucky to have even been where you've been."