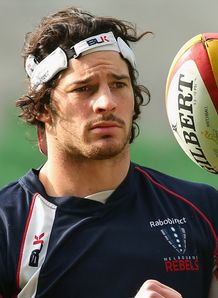 Related links
Teams
Cast your mind back to last year and remember the Rebels' nightmare visit to Durban when they were pounded 64-7 by the Sharks.
The franchise's worst ever loss was then compounded by a fight between team-mates Kurtley Beale and Cooper Vuna.
Both players have now left Melbourne but Hugh Pyle still remembers the shame of that heavy defeat in 2013 and will use it as inspiration this weekend against the Super Rugby leaders.
"The blokes who are still around [from the record defeat] definitely reflect on that and use that as a lot of motivation for this coming week," Pyle told AAP.
"I don't think anyone who played in that game was happy with their performance.
"There's not a lot of [Rebels] people who played that game [left] going around [the squad] and it's a different coach so it's a very different vibe going into the game and a different structure and game plan."
The Sharks come into the match on the back of a surprise loss to the Highlanders, with Pyle impressed by the result from the New Zealand side.
"The Highlanders have been playing some really good footy and to get the win at Durban was an extremely big feat," added Pyle.
"But on the back of that the Sharks aren't going to be happy with their performance so they will be coming out firing this week."