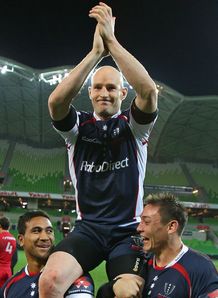 Related links
Teams
Former Wallaby captain Stirling Mortlock is to take up the position of Melbourne Rebels Director on the board of the Super Rugby franchise.
Rebels Chairman Jonathan Ling spoke to the Australian Rugby Union (ARU) of his satisfaction at securing the services of the 80-cap Wallaby.
"It gives me great pleasure to announce that Stirling Mortlock has accepted our offer to assume this crucial role," he said.
"Stirling was the foundation Melbourne Rebels Captain, and has elected to remain in Melbourne and pursue a finance career within the banking sector here since his retirement as a player. Stirling has also chosen to remain actively involved in the growth and promotion of rugby in Victoria.
"Stirling's unique understanding of the game, partnered with his business acumen, makes him a key asset for the Rebels organisation and the game of Rugby Union here in Victoria."
The Rebels are no longer a privately-owned company, with foundation shareholders passing on their shares to the Victoria Rugby Union in June this year. With this news, the franchise and the Union are to be amalgamated from next year's Super Rugby tournament onwards, and the sport will be endorsed in the region under the sole branding of the Melbourne Rebels.
Recently, Mortlock has appeared as a TV commentator for Australia's test matches on the nation's Channel 10, and has long-since sought to boost rugby in the Victoria area. He talked of his excitement at getting to grips with his latest position, and hopes that the new integration of the Union and the Rebels will bring with it many benefits.
"It is an exciting time for the Melbourne Rebels and its members. With the Melbourne Rebels now being truly owned by the Victorian Rugby Union community, it provides a unique opportunity for all stakeholders to benefit from mutual goals and ambition," he said.
"With both the on and off field teams under new leadership, and a young playing roster, we are on the cusp of building a Rugby programme that is the envy of every club, provincial, and national team here in Melbourne.
"We can now collectively work as one, in union."