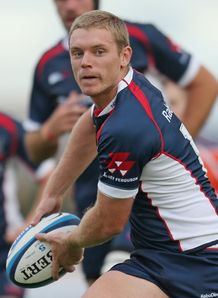 Related links
Teams
Bryce Hegarty has pledged his allegiance to the Rebels after signing a new contract that will keep the young talent in Melbourne until 2015.
The 21-year-old arrived on the Super Rugby scene with a bang, first appearing off the bench in Round 13 against the Blues. He made his first start the following week and helped the Rebels to their first win over South African opposition.
The week that followed proved Hegarty belonged at Super Rugby level, as he produced a composed tactical performance against the Waratahs. The win allowed the Rebels to claim the Weary Dunlop shield for the first time in the young club's history.
The fly-half started his career playing rugby league after signing for the Brisbane Broncos in 2010. He switched codes in 2012 when he signed an EPS contract with the Rebels, and now has dedicated his foreseeable future to rugby union.
"Bryce was brought into our Club as a player with relatively little experience, but his performances this season have shown us exactly what he is capable of," General Manager of Rugby, Sam Cordingley told the Melbourne Rebels official website.
"He was incredibly determined and worked very hard for this opportunity, and that definitely showed. He is a very popular member of the squad and we are thrilled to reward him with a further two year extension.
"Bryce joins a raft of young Rebels re-committing to the Club, which I think shows great belief in the direction in which we are headed. He is also one of a growing number of Rebels EPS players who are graduating rapidly to our senior squad, which is something this Club is very proud of."
Hegarty is excited about the contract and is pleased to call Melbourne home.
"I've loved my time in Melbourne so far. It's such a great city, and a place the boys and I are now able to call home," Hegarty told the Melbourne Rebels official website.
"To be given the chance to stay is exactly what I had hoped for. We are a really tight knit group, so it was really important to me to remain a Rebel. I'm looking forward to working closely with the coaching staff and other players throughout preseason and over the next two years.
"We are in the early stages of preseason now and are all pushing each other to new levels. I can't wait to show what we are capable of in 2014."
The club has managed to retain the services of a number of high profile players, including: Scott Higginbotham, Hugh Pyle, Cadeyrn Neville, Luke Jones, Tom English, Mitch Inman and Jordy Reid.