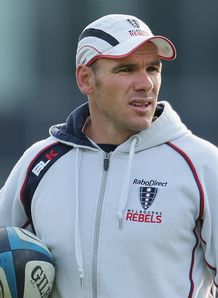 Related links
Teams
Rebels assistant coach Nathan Grey has left the Melbourne franchise to take up a coaching role with the Waratahs.
Grey, who enjoyed a nine-year playing career with New South Wales, joined the Rebels in 2011 as Damien Hill's defence coach before switching roles to take charge of the team's attack.
However, the 38-year-old has decided to return to the franchise where he enjoyed much success as a player.
"The Family and I have loved our time here in Melbourne," Grey told the Rebels' official website. "We have forged friendships for life through a close network of friends, both in and out of the Melbourne Rebels Club, with the kids blossoming and enjoying their school time and all that Melbourne has to offer.
"To set up a new team in the best provincial Rugby Union competition in the world far outweighs the difficulties and stress of competing at this level.
"I have learnt from all the coaches in my time here and thank Rod Macqueen, Mark Bakewell, Damien Hill, Matt Cockbain, John Muggleton, and Matt Tink for assisting me in my development to become a better coach."
Waratahs Michael Cheika admitted his excitement at the prospect of having Grey on board as defence coach.
"I feel Nathan is a perfect fit in what I'm looking for to progress the direction the coaching staff is taking," he told the Waratahs' official website.
"Nathan has 94 caps for NSW as a player and eight years of great experience as a coach in different countries, putting him well on the way to fulfilling the criteria of the man we were looking for. Combine that with him being an outstanding performer as a player for state and country in the areas that he will oversee, and it was difficult to find a better person for the job."