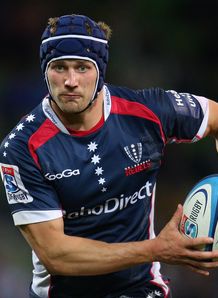 Related links
Teams
Rebels loose forward and club captain Tim Davidson will retire from rugby at the end of the current Super Rugby season.
The 30-year-old, who has also turned out for the Force and the Waratahs, has been a key member of the Rebels leadership group despite being on the periphery recently in terms of game time.
"Obviously it's a pretty special time finishing up here," Davidson told the Rebels' official website. "It's funny, you get an innate feeling that tells you it's time to move on and you're ready to choose what's next, and that's what I have had.
"I haven't spoken about it or thought about it too much, but luckily I have a few good mates who are going through the same thing so I'm sure we will spend the time reflecting together when the time comes. I do know that being a foundation member and helping to shape the direction of the club right from the start has been a fantastic experience."
On-field skipper Gareth Delve will also be leaving the Melbourne franchise but despite the loss of early leadership figures, Davidson is confident that there are plenty of competent candidates to take over the reins.
"I'm extremely confident in the future of the club. Guys like Hugh Pyle, Luke Jones and Cadeyrn Neville are coming into their fourth and fifth seasons as players, and I think there is a good nucleus there that can move the team forward," he said.
"They are on the brink of winning lots of games, and that bit more experience that they will have will help them win the tight ones. Hopefully the success that we all want will come. Player turnover is an unfortunate part of the game, but with the guys who are staying the club are in good hands."